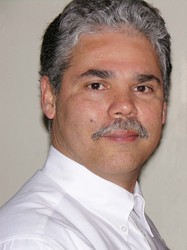 Cultivating Power: Extraordinary Practices for Extraordinary Times
San Rafael, CA (PRWEB) November 18, 2008
Donald Rubbo, President of Rubbo Art of Energy and author of Extraordinary Breath, has been invited to present "Cultivating Power: Extraordinary Practices for Extraordinary Times," by Kevin O'Malley, Program Organizer of the Commonwealth Club's Member-led Forum 'Business and Leadership' on December 8, 2008 at 6:00 PM.
"I am offering a way for people to not just survive the current turbulence, but to thrive, through self-directed strategies, and live authentic lives of limitless potential. Consider the question, 'How many apples are in an apple seed?,' and the answer is 'countless.' So too are our choices for our lives," says Donald Rubbo.
It is easier to lead others and inspire confidence when we are in a happy, relaxed, creative state. This program is designed to help attendees cultivate universal energies and develop universal wisdom, and tap into the limitless pool of resources, energy, strength and courage that successful leaders need to positively influence the course of events.
"Donald's humor, warmth, wisdom and deep compassion opens hearts and informs receptive minds," says Christie Dames, CEO of Techtalk / Studio.
Topics presented in Cultivating Power: Extraordinary Practices for Extraordinary Times:

The importance of Intention-Driven Action
Finding inner strength in the midst of chaos
Techniques to stay alert and calm when faced with difficulties
How to fulfill hopes and dreams, not defer them
All we need we have within
Business leaders, politicians, professionals, small business owners and employees will learn methods to expand their internal tool kits to include the creative process of cultivating, controlling and expressing "energy" for the attainment of personal power and inner peace.
"Cultivating Power: Extraordinary Practices for Extraordinary Times" will be held on December 8, 2008, at the Commonwealth Club, 595 Market Street, 2nd floor, San Francisco, California. 5:30 p.m. Reception, 6:00 p.m. Program.
Commonwealth Club members free, non-members $15, and students $7 (with valid ID). To purchase tickets, visit http://www.CommonwealthClub.org or call 415.597.6700.
About Donald Rubbo:
Innovator, artist, and a pioneer in mind/body medicine, Donald Rubbo is a San Francisco-based international seminar leader, author and social entrepreneur who has helped thousands transform their lives over the past 30 years. As a teacher, mentor and in his private practice he combines a diverse background in martial, internal and healing arts, including Karate, Shao Lin Kung Fu, Tai Chi Chuan, many systems of Qigong and profound meditative methods. He is the co-founder, along with his wife Cheryl Lynne Rubbo, of Rubbo Art of Energy; a BioEnergetic Healer; Author of Extraordinary Breath, Making the Power of Deep Breathing Work for You; and Board Chair of the PDP II Research Foundation, a nonprofit health education organization. He and his wife have recently returned from a six-week teaching tour of Europe.
For more information please visit Donald Rubbo online at http://www.CultivateChi.com.
For more information, contact:
Elizabeth Meloney
Program Director
PDP II Research Foundation
415.459.9098
###