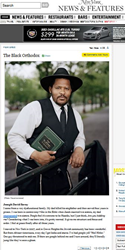 "I must admit that there were many red flags when dealing with Skye, as he often insisted on communicating via text message only. After Ruben Skye stopped answering and returning my calls and messages, I knew that there was a problem," says Savoy.
New York, NY (PRWEB) March 18, 2014
Joseph D. Savoy, an Orthodox Jewish businessman who was recently featured in New York Magazine, announces that he has filed a consumer credit fraud lawsuit on March 5th, 2014 (index # CV-014685-14/KI) in Kings County Civil Court against Los Angeles entertainment businessman, known as Ruben Skye of Griffin/Skye Industries who allegedly received $3500 from Savoy, for set up of a Credit Privacy Number (CPN) with two trade-lines and a promised approval of a $150,000 business line of credit.
According to the court records case number referenced above, Mr. Savoy, in mid-2013, was introduced to Ruben Skye by a mutual friend to help set up a line of credit for a pipeline of entertainment projects he planned to produce. Upon the introduction, Mr. Joseph Savoy consulted with Skye who allegedly recommended that he should establish a credit privacy number (CPN), to separate his personal and business affairs. Skye allegedly confirmed to Mr. Savoy that there would be an administrative set up fee of $3500 required to begin the process, and that the requested fee must be wired to Skye's assistant Natasha Morales' Bank of America account. Savoy allegedly wired the fee of $3500 (receipt/transaction # NNY T00208D R541930134), allegedly requested by Ruben Skye to begin the process for the service. Now five months later, Mr. Savoy allegedly claims that he has not received anything from SKYE, despite being promised clearance within less than a month. According to court documents, Joseph Savoy also used the Bank of America bank wire receipt as evidence to support his claim filed in Kings County Court.
Court case index # (CV-014685-14/KI) also includes Savoy's filed report with Federal Trade Commission (case # 51907233) against Ruben Skye and his outreach reference to the local authorities and Bank of America about the alleged consumer credit fraud incident.
To reference this case: Please visit https://iapps.courts.state.ny.us/webcivilLocal/LCSearch and enter index # CV-014685-14/KI or by visiting Kings County Civil Court located at 141 Livingston Street, Brooklyn New York 11201.
For press and media interviews, Savoy is repped by Apples & Oranges Public Relations.