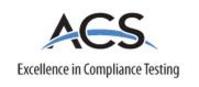 Taking this position is an honor
Melbourne FL (PRWEB) May 28, 2008
Advanced Compliance Solutions (ACS), one of the Southeast's premier testing laboratories, today announced that Jeff Prosser is the new General Manager of Florida Operations. Prosser will be based at Rubicom, a division of ACS in Melbourne, Florida. As general manager, he will be responsible for helping to write the next chapter in the firm's 20 year legacy of 32904 military standard testing (MIL-STD) and military EMC testing for clients such as Northrop Grumman, DRS and Rockwell Collins.
"Taking this position is an honor," says Prosser. "I knew Joe Barbee, who founded Rubicom in 1987, and had the greatest respect for his work. In fact, he used to manage the same Harris lab I managed. There's something fitting about this transition, and I look forward to building an even better business on the strong foundation already in place."
Before taking the top position at Rubicom, Prosser enjoyed a 24 year career at Harris Corporation and managed their EMC test lab for 18 years. He learned the ropes of the mil-std EMC testing industry as an engineer with Honeywell after completing his service with the US Air Force.
"I am sincerely pleased that Jeff has joined the Rubicom team," said Michael Proffitt, Executive Vice President of Advanced Compliance Solutions (ACS), Rubicom's parent company. "Jeff's extensive experience managing Military and Avionics EMC testing will further enhance our capabilities in serving our clients, while providing substantial mentorship to our growing Florida team."
Prosser is the latest addition to an expanding staff at the Rubicom facility. "ACS knows our people are what matters, and we kept the entire original Rubicom team in place when we became their parent company," says Proffitt. In addition to keeping the original team, since ACS started managing Rubicom, the testing facility has doubled employment and added new testing specialists in product safety testing and wireless device certifications.
About Rubicom Systems, a division of ACS
With multiple locations in the Southeast, ACS is a national leader in product testing. When product testing issues are preventing you from bringing product to market or having them accepted in military or aerospace environments, ACS helps you overcome those barriers efficiently and effectively. Our services include engineering consulting, product re-engineering, and a host of testing services, including EMC compliance testing, product safety, wireless, military and defense testing, and aerospace. Our state of the art facilities are matched by a caring team of engineers and client advisors that pride themselves on superior customer service and rigorous testing excellence.
###