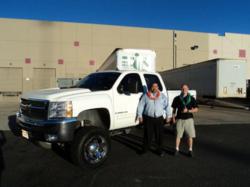 4 Wheel Parts congratulates Eddie Gallegos, a customer at 4 Wheel Parts Denver, for winning the Monster Sale Trip to Hawaii contest! Eddie and one lucky family member will head off for a four-day, three-night trip to Honolulu, Hawaii.
Denver, CO (PRWEB) November 13, 2012
4 Wheel Parts, an industry leading retailer of auto parts and equipment for off-road and aftermarket applications, has announced the winner of its Monster Sale Trip to Hawaii contest conducted October 13, 2012. Denver resident Eddie Gallegos is the winner of the grand prize, which is a four-day, three-night trip for two to Oahu, Hawaii, during the 4 Wheel Parts Truck & Jeep Fest in March 2013. The prize package includes airfare for two to Oahu and three nights of hotel accommodations.
Mr. Gallegos entered the contest at the Denver 4 Wheel Parts store during the in-store Monster Sale event, and has yet to select a companion for the trip. The pair will attend the Hawaii Truck & Jeep Fest scheduled to take place March 9 and 10 at the Blaisdell Center in Honolulu. The Monster Sale contest was a featured centerpiece of the 4 Wheel Parts Monster Sale, which offered discounts on an array of Pro Comp Xtreme products and services at each of the company's 56 retail locations around the United States.
The 4 Wheel Parts Truck & Jeep Fest is a road exposition tour that sets up at select convention centers around the country, giving off-road enthusiasts a two-day event to see the latest in aftermarket parts such as Rubicon Express shocks and fabrication methods, product demonstrations, merchandise vendors, along with hourly prize giveaways and events tailored to each specific location.
About 4 Wheel Parts: 4 Wheel Parts is a retailer and service provider specializing in aftermarket parts for off-road and 4x4 enthusiasts. With 56 locations nationwide, 4 Wheel Parts supplements its retail centers with a robust mail-order and e-commerce distribution network to serve customers around the country and around the world. 4 Wheel Parts carries a large inventory of truck and Jeep parts, including lift kits, tonneau covers, wheels, tires, winches, and more.