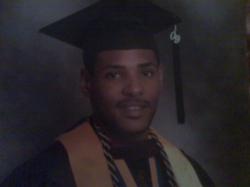 I am experiencing what any other father would feel right now if he were in my shoes. (Glen Davis)
Mount Vernon, New York (PRWEB) July 02, 2011
The family of Rubin Lee Davis, along with Mount Vernon city officials and community leaders are drawing a line in the sand at the Fourth Street Park today against the "senseless" shooting that took the life of the 26-year-old, Bronx resident, who drove to Mount Vernon Sunday to have dinner with his sister.
Davis stopped by the popular park to meet briefly with another relative. Moments later, he bled to death due to a single bullet to the chest by a lone gunman, who fled the scene and has yet to be caught by authorities, according to sources from the Journal News in Westchester County. No witnesses have to come forward, according to sources.
The City of Pride and Greatness, Mount Vernon's motto, is being threatened by what many are calling "senseless" acts of violence, most recently with the shooting death of Davis, a Phoenix Academy counselor who earned a masters degree in 2009 from the University of Maryland Eastern Shore in Criminology.
Funeral services for Davis will be held at Allen Memorial Church of God in Christ (COGIC) Family Life Center, on Saturday, located at 132 Crary Avenue in Mount Vernon. The viewing will begin at 10:00 a.m. followed by an 11:00 a.m. funeral service. The Rev. Mark Quarles, an associate pastor at Allen Memorial will be officiating.
"With the loss of a great son, like any father, I am frustrated," says Glen Davis, the victim's father. "I am experiencing what any other father would feel right now if he were in my shoes."
Hoping that his son's killer will be found and arrested soon, the senior Davis is using this Independence Day weekend to shed light on the violence that seems to be increasing in Mount
Vernon and in other lower Hudson valley communities.
He and his son's mother, Evelyn Davis, have teamed up local government and community leaders to solicit the help of both local and national media outlets an attempt help stop the senseless violence in America – particularly within the minority community.
Mount Vernon is the eighth most populous city in the state of New York, according to Wikipedia. It is a predominantly African-American city in a majority Caucasian county. Northside Mount Vernon has a suburban presence while Southside Mount Vernon has a very urban feel, nearly mirroring its border with the New York City Borough, The Bronx, according to the web-based, collaborative, encyclopedia.
Mayor Clinton I. Young will host the City sponsored prayer vigil and rally on Saturday at 2:30 p.m.at the Fourth Street Park, according to the City's web site. For more information about the event, contact Yolanda Robinson, Chief of Staff to Mayor Clinton. Ms. Robinson can be reached via email at vrobinson(at)cmvny(dot)com or by calling the Mayor's Office at (914) 665-2360.
###