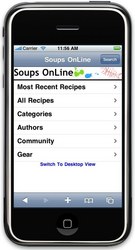 Due to the iPhone's popularity, Mobile Safari has quickly become the most commonly used mobile web browser in the United States, and it's market share continues to increase
Chicago, IL (PRWEB) June 6, 2008
Pathfinder, a leading software development and user experience design firm, announced the first in a series of articles by Pathfinder's Noel Rappin is now available at IBM developerWorks.
"Due to the iPhone's popularity, Mobile Safari has quickly become the most commonly used mobile web browser in the United States, and it's market share continues to increase," stated Noel Rappin, author of "Professional Ruby on Rails" and Pathfinder's Vice President of Rails Development. "Many developers are choosing to redesign their sites to take advantage of the unique features and user model provided by the iPhone and iPod touch."
The article is designed to help developers leverage Mobile Safari's new paradigm for web browsing that utilizes the iPhone's popular touch screen display along with new styles of interactions that include tap, pinch and zoom for bringing the content into view. Included are several examples, source code, and resources needed to build dynamic Ruby on Rails applications.
The series "Developing iPhone applications using Ruby on Rails and Eclipse" will explain how to build Ruby on Rails applications that dynamically recognize iPhone or iPod touch browsers and enable enhanced content options.
The first article in the series, "Serving content for iPhones" will focus on the server side structures needed to support, separate and serve specialized content. Subsequent articles will provide instruction for providing the iPhone look and feel to improve usability and enhance user experience.
IBM developerWorks is a premier technical resource for software developers, providing a wide range of tools, code, and education on a wide array of web-based technologies.
Noel Rappin is a Ruby on Rails expert and has authored "Professional Ruby on Rails". He builds Rails applications for a variety of Pathfinder clients and is a regular contributor to the Agile Ajax blog. Noel also participates in open source projects and has recently created the Rails-iUI plug-in which is a Rails wrapper that leverages the iUI toolkit for building iPhone enabled web applications.
"While developing my latest mobile web application with iUI, I realized I was building up a library, so I converted everything to a Rails plug-in," stated Rappin. "Open source is all about sharing what you have learned and making contributions to support the community."
Currently the plug-in focuses on automating common tasks and streamlining development. Future enhancements include improvements in documentation, testing and leveraging the Rails framework to enhance interactions, especially related to history and back behavior.
For more detailed information or to download the plug-in, visit: http://www.pathf.com/showcase/open-source-projects/rails-plug-in-for-the-iphone/
About Pathfinder Development
Pathfinder is a consulting firm specializing in software development and user experience design. Pathfinder delivers applications that are easy to use, providing clients with the technology to enable business breakthroughs and competitive advantage. Pathfinder's clients range from early stage start-ups to Fortune 5 companies across a wide array of industries, including energy, healthcare, insurance, financial services, media and publishing. For more information contact Eleanor Taylor at 312-372-1058 or visit http://www.pathf.com.
# # #