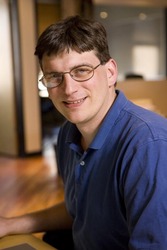 Noel's expertise and experience will be invaluable to our clients, allowing them to accelerate their time to market and lower costs by leveraging the Rails framework
Chicago, IL (PRWEB) January 9, 2008
Pathfinder, a leading agile development and user experience design firm, has named Noel Rappin, noted software engineer and author of "Professional Ruby On Rails" (Wrox Press, 2008) as Director of it's growing Ruby on Rails Practice. Rails is a full-stack web application development framework for developing rich, powerful applications in a fraction of the time required when using .Net or J2EE.
"Noel's expertise and experience will be invaluable to our clients, allowing them to accelerate their time to market and lower costs by leveraging the Rails framework," said Bernhard Kappe, Pathfinder's Managing Director. "His leadership will be instrumental to the Pathfinder team as we continue to drive the design and development of Web 2.0 applications for our clients."
"There is no doubt about the phenomenal benefits of Rails and we can literally say we have the guy who wrote the book," commented Pathfinder's Chief Technical Officer, Dietrich Kappe. "Noel's knowledge and practical project experience will be a real benefit to our clients."
Rappin earned a Ph.D. in Software Engineering from the Georgia Institute of Technology's College of Computing and holds a Phi Beta Kappa Key. Before joining Pathfinder, Noel led several Agile based projects at Motorola as a senior software engineer and technical lead. His previous publications include several technical articles and other books, including: "wxPython in Action" and "Jython Essentials".
"I'm really looking forward to expanding the use of Rails in our client engagements and within the development community," said Rappin. "Rails encourages Agile best practices and delvers web applications faster than ever before. It is really exciting to see results so quickly and to continually leverage the power of the Rails framework."
Pathfinder designs and develops people-friendly, commercial grade software and web applications for enterprises and organizations that view software as a competitive advantage. Pathfinder's approach integrates user experience design with agile development to improve software usability and accelerate development. For more information contact Eleanor Taylor at 312-372-1058, email to etaylor @ pathf.com, or visit http://www.pathf.com.
###