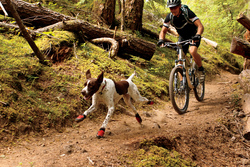 At the end of the day, we believe it is the amazing connection with our dogs, and their ability to motivate us to get out and explore that makes all the hard work worth the effort," said Patrick Kruse, Ruff Wear's Owner and Founder.
Bend, OR (PRWEB) April 4, 2011
Ruff Wear, the leading producer of high performance dog gear, unveils new products for spring including a redesign of the Bark'n Boots Grip Trex Dog Boots and Boot Liners, a new Top Rope™ Dog Collar and a redesign of the Roamer™ Leash. In addition, four new patterns for the Hoopie™ Collar and matching Flat Out™ Leash will be introduced. This line of new products will be available through specialty pet and outdoor retailers as well as through http://www.ruffwear.com starting April 2011.
"At the end of the day, we believe it is the amazing connection with our dogs, and their ability to motivate us to get out and explore that makes all the hard work worth the effort. Dogs encourage us to follow our nose just to see where the experience takes us. They improve our health, our lives, and our outlook and ask for little in return. Combine a dog's appetite for exploration with the right equipment and you'll be prepared for yet another grand adventure," said Patrick Kruse, Ruff Wear's Owner and Founder.
Redesigned all-terrain dog boots for summertime trail hiking adventures
According to the Outdoor Foundation's 2010 Outdoor Recreation Participation Report, hiking is one of the top five most popular outdoor activities at 32.6 million participants. In addition, 88 percent of hikers participate in more than one outdoor activity. As one of the leading outdoor activities, hiking has increasingly become a top past time for people and their dogs. The unique redesign of the popular Ruff Wear Grip Trex Boots is a highlight of the spring 2011 line.
The redesigned Grip Trex Boots have been improved, while maintaining the key benefits of high-traction, comfort and stability on rough or unstable terrain.
The redesigned Grip Trex Boots feature:

Ventilating mesh upper that provides breathability and moisture wicking
Vibram® outsole for stability and support on uneven surfaces
Expansion gusset and Sure Cinch closure that makes boots easy to put on
Non-marking sole that's great for indoor or nautical use
Mud guard is now a single-piece of material which enhances fit and long-term durability
During the boot redesign process, rigorous testing was completed on 43 dogs in a variety of conditions with various groups including, the Conservation Canines at the University of Washington. The Conservation Canines are an organization that focuses on a comprehensive, non-invasive sampling method using detection dogs to simultaneously acquire scat samples from multiple species and guilds and conduct their field testing all over the world.
New Bark'n Boots Grip Trex & Bark'n Boot Liners - Whether you're hiking, backpacking, climbing or running on steep, rough, or rocky terrain these boots will keep dog paws protected from surface elements. They're designed for traction on slippery surfaces and safe for nautical use as well.
Grip Trex Boots: MSRP $64.95 (set of four)
The Bark'n Boot Liners are recommended to enhance the fit, upgrade the performance, and improve the comfort of the Bark'n Boots.
Boot liners: MSRP $9.95 (set of four)
New colors and patterns featured on Ruff Wear's most popular collars and leashes
With Ruff Wear performance dog gear, product details have a purpose. Whether it's the new silicone tag silencer that keeps dog ID tags from jingling, or the new ergonomically designed leash Talon Clip™, Ruff Wear has a knack for taking something elemental and turning it into something conveniently useful.
For spring 2011, Ruff Wear will offer several new options in leashes and collars. The popular Top Rope Collar is back after a five-year hiatus with a new all-metal buckle, and the Hoopie Collar has been redesigned with four new colorful patterns. And, two redesigned leashes will be available, the Roamer and Flat Out. Both leashes will feature the new metal Talon Clip, crafted by Ruff Wear product designers.
The Flat Out Leash and matching Hoopie Collar – new patterns and colors:
The Flat Out Leash has been improved with new patterns and includes the new metal Talon Clip, which provides a strong and secure leash/collar connection. The unique side release buckle of the Flat Out Leash allows for three handle conversions: hand-held leash, waist-worn leash and fixed leash (clipped around a tree or post) for when you want to run in to grab a cup of coffee. The four new Central Oregon-inspired patterns are: Klickitat (orange), Topo (blue), Cascades (green), and Lotus (pink/gray).
Flat Out Leash: MSRP $29.95
The Hoopie Collar features the same colorful patterns mentioned above and features a new anodized, aluminum V-ring for a strong and reliable leash attachment point. The Hoopie Collar also features a new silicone tag silencer to minimize dog tag jingle.
Hoopie Collar: MSRP $14.95
Top Rope Collar and Roamer Leash
Ruff Wear's new Top Rope Collar is ideal for dog lovers who like the convenience of having the V-ring always at the top of the dog's neck when clipping on the dog's leash. The unique feature of this collar is the weighted metal buckle that provides ballast for the V-ring leash attachment. The new silicone tag silencer is included to keep dog tags quiet.
Top Rope Collar: MSRP $29.95
The redesigned Roamer Leash keeps all the stretchy freedom your dog has come to enjoy with the all-new metal Talon Clip providing a secure, strong collar connection. In addition, you can wear the Roamer Leash around your waist and hike hands free!
Roamer Leash: MSRP $34.95
Tips on how dogs should break in their new boots before the first spring hike!
Just like human hiking boots, dog boots can benefit from a break-in period. While dogs' pads toughen up over time and terrain, for the best outcome, dogs should get used to wearing boots over short-duration adventures during a break-in period. Just as we wouldn't go for a long run in brand new running shoes without socks, dogs' first time wearing dog boots shouldn't be on that epic 15 mile hike.
Here are a few things you can do to help break-in your dog's boots.
Work them. When you first get the boots, work them in your hands so the sole becomes more pliable. Because of their low body weight, some small dogs can have a hard time softening the outsole, so breaking them in with your hands can really help them become more comfortable, quickly.
Take it slow. Start by putting the boots on in the house for a couple minutes, then try short adventures outside; gradually increasing the time spent in the boots.
Stop and check. Each time you use the boots during the break-in period, stop and check for rubbing and hot spots. This is also a great time to check the strap tension and fit, so the boots stay secure.
Socks for dogs? Just like socks help with the overall comfort of our shoes, boot liners can help with a dog's overall comfort, providing a soft, wicking layer between the paw and the boot.
Get the right fit. Getting the right size boot not only ensures the boot will stay on, but it also helps with boot comfort. The boot strap should fit snugly above the metatarsal/metacarpal pad, but below the carpal pad and dew claw. It should fit with little excess room from left to right, and front to back, and bend at a 45-degree angle where the dog's paw naturally bends.
The boot dance. Your dog will most likely "dance" their first time in boots. Don't be alarmed—this is a natural reaction. You might be surprised how quickly your dog will get used to the idea of boots if you follow these tips for getting your dog used to boots.
About Ruff Wear
We love dogs…and that's the tail that wags Ruff Wear.
Ruff Wear's mission is to build performance product to enhance and inspire outdoor adventures for dogs and their human companions. Ruff Wear encourages an active lifestyle for everyone with a four-legged friend - stay fit, healthy, and happy - on a trail run, a day hike, or multi-day backcountry adventure. Our Performance Dog Gear™ combines technology, quality, fit, function, and safety to meet the needs of active and adventurous canines and their humans.
Ruff Wear is committed to preserving open lands and waterways, providing important habitat for wildlife and recreational opportunities for humans and canines. Ruff Wear partners with The Conservation Alliance to protect these special places so important to us. Additionally, Ruff Wear works with regional grass roots organizations, giving back to the community, and creating opportunities to strengthen the bond between humans and their dogs.
Ruff Wear was named to Outside magazine's (http://www.outsideonline.com/) third annual "Best Places to Work" list in April 2010.
In addition, Ruff Wear was recognized as a "100 Best Green Companies to Work For in Oregon" by Oregon Business Magazine in June 2009.
Based in Bend, Oregon, Ruff Wear sells their products through specialty pet and outdoor retailers as well as http://www.ruffwear.com. Find Ruff Wear on Facebook, http://www.facebook.com/ruffwear and on their Dog Blog, http://dogblog.ruffwear.net, and on Twitter, http://twitter.com/ruffwearinc.
###