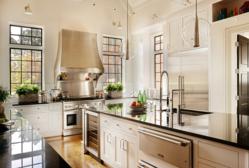 The award embodies the talents that came together to create a fine home and unique space the entire Wolfpack nation can claim as our own.
Raleigh, NC (PRWEB) April 30, 2013
Rufty Homes was recognized by the National Association of Home Builders (NAHB) with its "Room of the Year" award as well as a platinum award for "Interior Design: Kitchen" at the 2012 Best in American Living Awards (BALA). Award winners were announced during the annual NAHB International Builders' Show in Las Vegas.
Rufty Homes was recognized for construction of "The Point" at N.C. State University (NCSU), which serves as home to the university's chancellor, Dr. Randy Woodson and his family. NCSU selected Rufty Homes to build the high-profile residence. The architect for the project was Marvin Malecha, dean of the NCSU College of Design, in cooperation with Weinstein Friedlein Architects, Carrboro, N.C. Rufty Homes utilized Design Lines, Ltd. of Raleigh for the interiors.
"The beauty of this home is its ability to reflect the values and character of the family that occupies it," said Jon Rufty of Rufty Homes. "It serves as a primary residence for Chancellor Woodson and his family, as well as a remarkable entertaining venue to showcase the university with alumni gatherings and the many dignitaries who visit campus."
The university challenged the design and construction teams to create a welcoming residence with a personal scale, rather than a grand and intimidating design. The result is what the team refers to as "soft modernism," providing a familiar and welcoming appeal for such a luxury residence.
The Point rises in character with custom homes in nearby communities. It features all North Carolina materials – from the brick to the wood framing, floors, ceilings and trim. Locally sourced brick was color-matched to that of Holladay Hall, the first building constructed on the N.C. State University campus. The home is LEED certified and features a closed geothermal system of 14 wells for heating and cooling.
"BALA winners have always shown that they are at the forefront of innovative design and construction, and this year is no different," said Skip Howes, BALA design committee chair and president of Scott Homes Ltd. in Woodland Park, Colo. "We are proud to recognize Rufty Homes for their creative and forward-thinking approaches to their work."
"It's a great honor to build a residence that offers such a beautiful reflection of the university and be recognized with the industry's highest honor," said Rufty. "The award embodies the talents that came together to create this fine home and unique space the entire Wolfpack nation can claim as our own."
Now in its 29th year, BALA recognizes outstanding achievement by builders and design professionals in all sectors of residential housing, including single-family production, custom, rental, affordable, interiors, remodeling, community and international, based on the principle that good design is not, and should not be, limited to high-priced and/or custom homes. Even the simplest, most affordable homes can receive an award if they showcase good design.
The 2012 BALA Portfolio features an overview of design trends and photographs, including Rufty Homes' award-winning project on behalf of N.C. State.
For 30 years, Rufty Homes has served as the benchmark for sustainable and custom home building in Raleigh and the surrounding Triangle community. North Carolina's very first HEALTHY HOUSE™ was built by Rufty Homes back in 1994. This health-conscious, environmentally sensitive residence set the standard in North Carolina for green building innovation designed to promote human wellness, resource efficiency and energy savings. The following year, Rufty Homes constructed the very first Progress Energy (now Duke Energy Progress) EnergyStar residence in the state. Led by Jon Rufty, the company has a reputation for building fine custom homes, featuring a team of friendly personalities who use a refined process to bring excitement and organization to luxury home building.
The National Association of Home Builders is a Washington-based trade association representing more than 140,000 members involved in home building, remodeling, multifamily construction, property management, subcontracting, design, housing finance, building product manufacturing and other aspects of residential and light commercial construction. NAHB is affiliated with 800 state and local homebuilders associations around the country. NAHB's builder members will construct about 80 percent of the new housing units projected for this year.