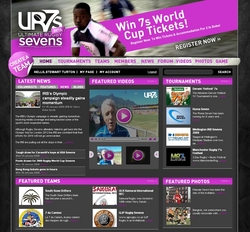 UR7s.com will most importantly provide fans with a website dedicated to delivering top quality news, features and video footage. The platform's ultimate goal is to help Rugby Sevens fulfill its considerable global potential by aggregating and empowering the sport through the use of cutting edge technology and new media applications
London (PRWEB) February 5, 2009
Ultimate Rugby Sevens has unveiled the most comprehensive media channel for the sport of Rugby Sevens with the launch of its interactive UR7s.com website - the worlds first dedicated web offering for Sevens fans, players, teams and tournaments: http://ur7s.com.
The launch coincides with the start of the biggest year ever for the sport of Rugby Sevens, with the 10th annual IRB World Series as well as the IRB Sevens Rugby World Cup taking place and the continued campaign for the sport to be included in the 2016 Olympics set to culminate.
UR7s.com will act as a dedicated media outlet for tournaments and teams at every level, and an interactive online destination for rugby sevens information, news, discussion, video and gaming.
Key user benefits include:

Video highlights from tournaments across the globe
Real-time results
Social networking allowing interaction with other fans and players
Tournament news and information
Team and player profiles
Ultimate Rugby Sevens will also be supported by legendary rugby player, journalist and lead commentator for the IRB World Sevens Series Nigel Starmer-Smith. The former England scrum half, Rugby Special presenter and editor of Rugby World magazine is seen as an authority of the game of Sevens and will act as a columnist for the website, providing regular features as well as commenting on key tournaments and players.
Tim Lacey, Founder of Ultimate Rugby Sevens, said:
"The launch of UR7s.com represents an exciting time for the global network of Rugby Sevens fans. The game has experienced huge growth over the past few years and 2009 is set to be the biggest in the sports history with major events such as the World Cup and a decision expected on whether Sevens will become an Olympic sport.
"UR7s.com will most importantly provide fans with a website dedicated to delivering top quality news, features and video footage. The platform's ultimate goal is to help Rugby Sevens fulfill its considerable global potential by aggregating and empowering the sport through the use of cutting edge technology and new media applications".
To coincide with the launch of the website UR7s has also announced a unique strategic partnership with the USA Sevens, the IRB World Series tournament held in San Diego, in which UR7s will promote the tournament internationally and advise on its digital media strategy.
To take a look at the site and see the full extent of the content on offer visit UR7s.com.
About Ultimate Rugby Sevens:
Ultimate Rugby Sevens is a multimedia and development platform for the sport of Rugby Sevens, pioneering its promotion and growth worldwide. It serves as a marketing and media delivery vehicle for tournaments and teams, and an interactive online home for everything 7s.
Contact:
Stewart Turton, Online Marketing Manager
Ultimate Rugby Sevens
+447759223729
###