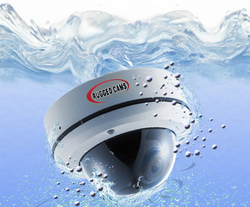 ..our mandate was to manufacture a Dome Camera that would stand up to anything that Mother Nature or Vandals can throw at it.
Kemp, Texas (PRWEB) July 8, 2010
Another Tough, Smart Security Camera design from Rugged CCTV
Security Cameras have advanced to the point where they are smarter and smaller than they once were, but they also seem to be more fragile and have a shorter life than they did a decade ago. Most Security Camera manufacturers explain this by invoking the "they don't make things like they used to" excuse. One manufacturer, Rugged CCTV, bucks that trend by making security cameras better and more rugged than the old days, and even tougher than anything the competition currently offers.
"Since the advent of Digital Security Camera Systems, our customers are now confident that the video from their cameras will look great", says Allen Spears, Chief Engineer for Rugged CCTV, a manufacturer of the Rugged Cams brand of security cameras, "But they don't seem to be happy with the overall quality of most outdoor rated dome cameras that are being offered to them." he says. "The most common complaints we are hearing, is that they leak and fog up whenever it rains, or that they simply die after only a year or two in the field. So, our mandate was to manufacture an Ultra High Resolution Dome Camera that is rated to IP68 standards, and would stand up to anything that Mother Nature or vandals can throw at it."
The result is the Defender Digital Dome Camera from Rugged CCTV. The Defender is Vandalproof, Waterproof, Weatherproof and Chemical-Resistant. The Defender packs an amazing 600 lines of Resolution in a small, but tough package. It also has a Manual Zoom lens that is adjustable from 2.8mm wide-angle to 12mm telephoto, this wide adjustability will allow you to fine-tune for any view you need – no matter how the dome is mounted. Mounting is another area where the Defender Dome goes beyond ordinary cameras, because you can mount the Defender Dome in any location, at any angle, and on any surface you wish. The Defender can be mounted on ceilings, walls, overhangs, eaves or even double-gang electrical boxes – indoors or out. It even has a Wall Mount Arm option that will allow even more mounting configurations. What makes this possible is an innovative 3-axis mount that can correct the lens back to an upright and level picture no matter how the housing is mounted. No other Dome Security Camera offers as many mounting options.
This is no dumb security camera though. There are brains behind the beauty. The Defender Dome employs a technologically advanced High Resolution, Day/Night Sony 1/3" Super HAD II CCD camera module, married to a NextChip Digital Signal Processor (DSP), that gives the camera a whole host of programmable features, and outputs a whopping 600 lines of resolution.
The Sony-NextChip combination is a popular choice of Professionals, and provides an on-screen menu that allows the user to tell the camera how to precisely control for challenging lighting conditions. Mounted inside the housing is a small joystick controller for navigating through menu options, and a secondary video plug-in port for handheld monitors so that aiming, focusing and programming changes can be accomplished right at the camera. This is Smart Control Technology, and it is the latest advancement in the security camera industry.
The Defender Dome camera's best features are; WDR light control (Wide Dynamic Range), that will automatically boost low-light scenes and tone down any bright lighting or glare, and HighLight Masking, which places black orbs over any bright lights that may enter the picture, such as headlights, tail lights, security lights, etc., and 3D Digital Picture Noise Reduction to clear up any graininess caused by dim lighting conditions. There is also a built-in Digital 10X Zoom feature and even a Privacy Masking utility that will not allow an operator to see in private windows or other areas of the picture that you wish to keep private.
When installing the Defender Dome camera, you can hook up whatever voltage is available because the Defender will auto-detect between 12V DC and 24V AC, and has built-in short protection in case the polarity is wrong.
After only a few months on the market, there are already well over a thousand Defender Dome security cameras in businesses and homes all over the world. Feedback from purchasers and installers has been overwhelmingly positive. They like the high tech features and the flawless digital video, but they seem to be truly impressed with the low cost.
Rugged CCTV has priced the Defender Dome Security Camera at $199, complete with a manual and a Two-Year Warranty.
Founded in 1993, Rugged CCTV is a leading manufacturer of innovative security cameras and DVR's for businesses and properties of all types.
Rugged CCTV and Rugged Cams are either registered trademarks or trademarks of Rugged CCTV in the United States and/or other countries.
For more information, press only:
Allen Spears – Rugged CCTV
1-866-301-2288
201 N. Elm St.
Kemp, TX 75143
allensp at rugged-cctv dot com
http://www.rugged-cctv.com
###