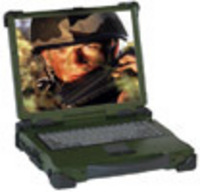 We are proud to have been selected for this important mission critical computing program. Our employees take great pride in delivering high quality and high reliability memory modules into the national defense effort
Rancho Santa Margarita, Calif. (Vocus) March 17, 2010
Virtium Technology Inc., a leading designer and manufacturer of memory modules for specialized computers in demanding environments, has announced it has been awarded a large (undisclosed) order from a major defense contractor. This record-breaking order for rugged military memory is slated to fulfill a significant government contract.
Virtium supplied small form factor, ruggedized and ultra-reliable military DIMMs and SODIMMs that are capable of performing at extended temperature ranges in the toughest environments where lives depend on the speed and reliability of technology. Military embedded systems are now depending more and more on software-based functionality and the demand for more memory to run these larger applications has increased in recent years. Virtium has created a special line of small footprint rugged memory modules with densities in 1, 2, 4 and 8 Gbyte to fulfill these needs.
"We are proud to have been selected for this important mission critical computing program. Our employees take great pride in delivering high quality and high reliability memory modules into the national defense effort" said Bob Berry, Virtium's Vice President of Sales. "This contract award further strengthens Virtium's position as a leading supplier of memory to the military and aerospace programs that are using unmanned aerial vehicles (UAV), armored vehicles, rugged laptops, rugged notebook computers and rugged tablet computers for intelligence, surveillance and reconnaissance (ISR) programs.
About Virtium
Since 1997, Virtium memory solutions have been integrated by leading computer manufacturers around the globe, in a wide variety of challenging industries where performance and reliability are paramount, including communications, energy, industrial automation, infotainment, medical and military markets. Virtium combines first to market memory solutions with continuity of support for legacy memory products in older systems. Virtium provides extra-mile service to save design engineers and procurement professionals time and money. Virtium delivers a worry-free experience.
Its memory module product line encompasses a wide range of densities and data transfer rates in all major memory product categories including DDR3 and DDR2 MiniDIMM, VLP MiniDIMM, VLP Unbuffered Mini-DIMM, VLP Registered Mini-DIMM, SO-UDIMM, SO-RDIMM, ECC SODIMM, Mini-UDIMM and Mini-RDIMM, together with enhancements needed in challenging environments.
Headquartered in Southern California, Virtium is a privately held, financially-sound technology company with U.S. based design and manufacturing facilities certified to IS0 9001:2000 and AS9100 Rev. B. Virtium maintains representative offices throughout the U.S., Europe and Asia. For more information, call toll-free at 1-888-VIRTIUM (1-888-847-8486) or visit Virtium Technology online at http://www.virtium.com.
###