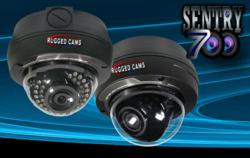 Rugged Cams makes the toughest Dome Cameras on the Planet.
Kemp, TX (PRWEB) June 28, 2013
Rugged Cams has been busy building a whole series of Dome Cameras based on their newest dome camera housing, the Sentry Series.
The Sentry dome cameras are all built in the newly designed weatherproof, waterproof dome camera housing that is sealed against moisture and dust, and are also Heated to withstand cold environments down to -40º below zero. This revolutionary new housing can be mounted in any orientation, on any surface, and can even be flush-mounted. Another popular option is to order the optional wall mount, which comes with a built-in swing-out Junction Box for hiding all the connections, and even has two 3/4" Conduit fittings that makes every installation look and act like a professional install.
Rugged Cams has already introduced four new cameras in this housing, and is soon to introduce a two more. The first two, the Sentry-700 and the Sentry-700/IR, are both 700 TV Line cameras that deliver 30% more resolution via SONY's new 960H cameras, which deliver a 16:9 format picture that is 960 Horizontal Lines of Resolution wide, which is very close to the Megapixel range . Both versions, the regular and the Infrared model, have a really useful, widely adjustable Varifocal Lens that adjusts all the way from 3.5mm to 16mm. This is fast becoming the new standard lens at Rugged Cams, because it allows this camera to be placed almost anywhere because of the wide zoom range of this lens.
The Sentry Series of Dome Cameras also includes a couple of new Infrared and non-Infrared indoor/outdoor Domes sporting Panasonic HD-SDI HD Dome Cameras that deliver 2.2 Megapixel Video at 1080p (switchable to 720p as well). These too are designed to withstand extreme weather conditions, including rain, snow, ice and even dust found in some factory environments. This is the most advanced indoor/outdoor dome cameras that Rugged Cams has ever produced. These new HD Dome Cameras incorporate the latest technologies to produce crisp, clear images at HD resolution, and do it constantly, day in and day out, no matter the environment, no matter the weather. IP Versions are also on the way.
The innovative design of the Sentry Domes begins with a tough, sealed, 3-piece waterproof outer case. This hermetically sealed case has an ingress protection (IP) rating of 68, which means that they are totally protected against intrusions by water, chemicals and other liquids. Even solid particles as small as individual dust grains are no problem for this innovative indoor/outdoor dome housing.
In addition to being completely waterproof and dustproof, the Sentry Dome Cameras can also withstand any environment Man or Mother Nature can dish out. Even extreme temperatures down to -40° below zero or as high as 160º F, are absolutely no problem with the Sentry Domes. All of these innovative dome cameras also include an Anti-Fog setting that corrects the picture in low visibility conditions.
The Sentry Dome Cameras make it easy to access the Lens Adjustment knobs and the Menu Joystick Controller, and also has an extra Video Output for mobile monitors and CCTV Testers to view the Menu settings and lens changes right at the camera.
One of the best features of these indoor/outdoor dome cameras, is the Easy Pro Install System Wall Mount (optional), which can be used by anyone with basic mechanical skills to mount the camera just as well as any professional. At the base of the mount is a built-in, swing-out junction box that allows the camera to be mounted in any direction and position. All your connections are weather and vandal protected with this innovative new built-in feature. The Sentry Dome Cameras can be mounted on a wall, a ceiling, a table or any other surface without a problem.
The Sentry Dome Cameras also have a dual-voltage power converter that accepts either 12V DC or 24V AC, and at wide voltage ranges, such as 10-30 Volts. In addition, the Infrared versions of these dome cameras have 40 wide-angle, variable-power infrared lamps with Smart IR technology that give the cameras an effective outdoor Infrared Lighting range of almost a 100 feet, and an indoor range of around 165 feet.
Best of all, The Sentry Dome Cameras all come with Rugged Cams' exclusive 3-year warranty, as well as Tech Support for Life.
About Rugged Cams
Rugged Cams has been manufacturing and distributing digital security equipment since 1993. The company is located just outside Dallas, Texas, and is well known for its innovative, Patented products and security solutions.