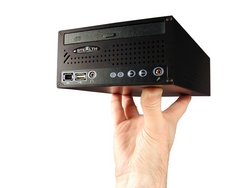 Clients can simply add specialized I/O, video, data acquisition and communications cards, something that cannot be achieved with other small computers such as notebook PCs
Toronto, Canada (PRWEB) August 15, 2007
Stealth Computer Corporation a leading ISO 9001 manufacturer of industrial rugged computers and peripherals has released a small form factor or mini PC that is so small that it can fit on the palm of your hand. The LPC-350PCI Little PC employs Intel's Pentium and Celeron M series processors, designed for optimum power efficiency without compromising processor performance. The robust anodized aluminum chassis measures just over 2 inches tall having the overall footprint about the size of a hard cover novel, measuring in at 10" x 5.87" x 2.75" and weighing approximately 6 lbs.
One of the unique attributes the LPC-350PCI possesses is the open PCI card slot. "Clients can simply add specialized I/O, video, data acquisition and communications cards, something that cannot be achieved with other small computers such as notebook PCs" remarks Stealth's President & CEO, Ed Boutilier.
The LPC-350PCI mini PC features a multitude of I/O connectivity built into its impressively small design such as; LAN, Serial, 3-USB 2.0, FireWire, Video, Audio, PS/2 Mouse & Keyboard ports. The LPC-350PCI has a built-in 2.5" high-shock hard drive with up to 160GB's of storage space for archived data.
For applications that require extra high shock, vibration and wide temperature ranges an optional Solid State Hard Drive or Flash Drive is available. A slim DVD/CD-RW optical drive comes standard with an optional DVD burner available. Systems are compatible with Microsoft Vista/XP, Linux etc and can be custom configured to meet the exact needs of the OEM or end user. The Stealth LPC-350 series Little PCs are shipping now with prices starting at $995.00 USD depending on configurations. Stealth's LittlePC products serve a demanding market where powerful solutions are being deployed in space-challenged applications around the world. Digital Signs, Kiosks, Embedded Control, Thin-Clients, POS & Human/Machine Interface are just a few of the applications that are ideal for Stealth's LittlePC products.
Founded in 1990 Stealth Computer Corporation is quietly evolving as a leading manufacturer of specialized Computers and Peripherals. The company is ISO 9001 registered with its headquarters near Toronto, Canada. Stealth continually develops innovative products designed to meet the exact needs of their clients. Since 1990 Stealth, products have been used in industrial, commercial, scientific, Government and military applications. Stealth Computer Corporations impressive customer base includes Fortune 500 companies, Military installations and Governments worldwide. http://www.stealthcomputer.com
###