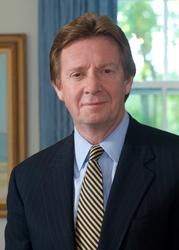 Washington, DC (Vocus) February 3, 2010
President Barack Obama's success in office will not be measured solely by healthcare reform or other legislative achievements, but also by his ability to give firm direction to and affect the outcomes of rulemaking by federal agencies, according to Neil Kerwin, president of American University and director of AU's Center for the Study of Rulemaking.
Congress is an active rule maker and lawmaker, but during the past 75 years, the laws consumed daily, and the laws that truly affect the quality of lives, have migrated from Congress to administrative agencies at the federal, state, and local levels in the form of authority to write rules. It is how presidents navigate these rules and regulations that define their success.
Former President Ronald Reagan changed the power of rulemaking more than any president before him. However, he was unable to affect the role of rulemaking or its impact on the American people. Bill Clinton wanted to make government smarter, and in many ways he did that through the passage of new regulations and rules. George W. Bush, whose presidency was defined by the September 11 tragedy, saw legislation and regulation in the area of homeland security explode.
In the hours after Obama was inaugurated he did what all presidents did before him -- put a stop to all regulations in development under the previous administration. However, laws enacted during previous administrations have given the White House vast power over the passage and enactment of rules and laws.
President Obama inherited a level of problems like no other modern president has since Franklin Roosevelt. There has been much outcry to change areas which the public felt were neglected by former President Bush, such as healthcare and the environment. However, a slow legislative process and a severe budget deficit have made it hard for the president to enact change at the pace he had promised. But, we're already beginning to see that this president is realizing that the rulemaking process can be a president's best friend by managing and setting priorities effectively.
For example, Kerwin predicts that if cap and trade fails in Congress, Obama will work through the Environmental Protection Agency (EPA) and other agencies to enact legislation, rules, and regulations. In addition, opponents in Congress will take note of any attempt to write rules in lieu of new legislation and do what they can to block it.
But the fact is, Obama has named aggressive potential regulators to most of the major agencies in the U.S. government, including the EPA, OSHA, and the Departments of Labor, Transportation, and the Interior. Obama's experienced managers have the ability to set priorities and define the quality of life for the general public, from riding a plane to driving a car. How the public reacts to these priorities will define Obama's success.
Kerwin recently spoke about the regulatory process in the Obama era to AU students taking a course focusing on lobbying and public affairs, and to the Osher Lifelong learning Institute.
A nationally recognized specialist and published author in public policy and the regulatory process, Kerwin is actively engaged in research and regularly teaches courses in administrative process, policy implementation, and American government. He founded AU's Center for the Study of Rulemaking and is the author of "Rulemaking: How Government Agencies Write Law and Make Policy" and the coauthor of "How Washington Works: The Executive's Guide to Government."
Located in Washington, D.C., American University is a leader in global education, enrolling a diverse student body from throughout the United States and nearly 140 countries and providing opportunities for academic excellence, public service, and internships in the nation's capital and around the world.
###