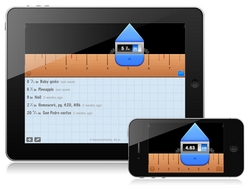 Ruler takes advantage of its non-wood medium to great effect.
Pahoa, HI (PRWEB) September 20, 2010
Today, Andrew & Alexa released Ruler, a convenient mobile innovation of the universal tool. Ruler brings fun and simplicity to a relatively tedious task. While conventional rulers involve mentally discerning measurements from small markings, using Ruler is just a matter of aligning the pointer: Precise, fully formatted measurements appear instantly.
Ruler takes advantage of its non-wood medium to great effect. Save and come back later to see what you measured and when. Convert between inches and centimeters with one tap. Copy and paste values into other apps like Calculator and Mail. You can even measure long objects by sliding the device and swiping. The app includes a visual guide demonstrating this simple technique.
Ruler is now available at a 99¢ introductory price, universally tailored to iPhone, iPad, iPod touch, and the Retina display. Although all-new, it is a free 2.0 upgrade to an app released earlier this year by the same name.
"Alexa and I saw the need for measuring to be done right on iOS. Ruler 1.0 was, to put it bluntly, awful, so we burned it to a fine ash and began again," said co-creator Andrew Kaz. "We approached Ruler 2 on a higher level of passion."
Andrew Kaz created Classics for iPhone with Phill Ryu in 2008. Classics peaked at #4 on the US charts and was featured prominently in Apple's iPhone TV commercials for its groundbreaking user experience. It later became the inspiration for Apple's 2010 revolution in digital reading, iBooks.
A contest has launched today celebrating the release. The prizes are fresh from the event Apple held recently.

Grand prize: The brand-new 64 GB iPod touch with FaceTime, Retina display, HD video recording, and Game Center.
2nd: The 16 GB iPod nano redesigned with Multi-Touch.
3rd: The smaller, streamlined Apple TV.
4th: The new iPod shuffle.
PRESS CONTACT
Andrew & Alexa Kaz
creators(at)rulerapp(dot)com
(408) 890-2321
WEBSITE & BUY
http://rulerapp.com/
MEDIA
Screenshots: http://rulerapp.com/pr/RulerScreens.png
Icon (512 x 512): http://rulerapp.com/pr/Ruler512.png
# # #