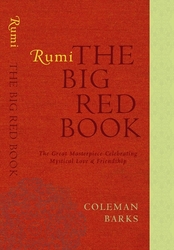 Coleman Barks is a pioneer and renowned scholar on Rumi, the great Sufi. In his elegant and exquisite way, Coleman has made Rumi as popular as Shakespeare to the world and continues to inspire us with Rumi's ecstatic poetry. - Deepak Chopra
San Francisco, CA (PRWEB) October 12, 2010
Considered one of the masterpieces of world literature, RUMI: THE BIG RED BOOK (November 2010; HarperOne) is perhaps the greatest work of Rumi, the medieval Sufi mystic who is also the bestselling poet in America. Rooted in the profound mystical friendship between Rumi and Shams Tabriz, a wild mystic with rare gifts and insight, this collection of lyric poems and short quatrains contains more than 40,000 verses of divine epiphany, spiritual awakening, friendship, and love. A classic of Persian literature, Rumi's collection of these verses has traditionally been bound in a red cover, hence the title of this inspired work of spiritual literature.
Offering a window to an exotic world of the past, while unveiling insights into our modern lives in the here and now, RUMI: THE BIG RED BOOK will inspire and delight generations of Rumi readers to come.
Coleman Barks is famous for his renderings of Rumi's poetry, and his work on these particular poems has never been published anywhere. A renowned poet in his own right, Barks is the bestselling author of The Essential Rumi, The Soul of Rumi, and Rumi: The Book of Love. He was prominently featured in both of Bill Moyers's PBS television series on poetry, The Language of Life and Fooling with Words. He taught English and poetry at the University of Georgia for thirty years, and he now focuses on writing, readings, and performances. This book is the culmination of over thirty years of Barks's work on Rumi's seminal classic. Visit the author at http://www.colemanbarks.com.
"This is the capstone of Barks's life's work. . . . Richly sensual yet never flowery, Barks' language emphasizes Rumi's embodied spirituality in a book to savor."—Booklist, starred review
"The bestselling poet in America." —Publishers Weekly
RUMI: THE BIG RED BOOK
The Great Masterpiece Celebrating Mystical Love & Friendship
HarperOne, an Imprint of HarperCollins Publishers
Hardcover | $29.99 | 512 Pages | ISBN 9780061905827
October 2010
####