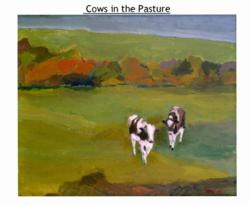 Run Free Ranch's program model will provide exposure, role models, opportunities and a safe place for participants to be at ease and grow.
Yardley, PA (Vocus/PRWEB) February 10, 2011
After 25 years, Yardley resident Sharon Ziemer's vision to create a nature-based life skills development program for inner-city youth is coming to fruition. Run Free Ranch will holds its first fundraiser on Saturday, March 5 at Artworks of Trenton (NJ).
The Artist Round-Up event will feature remarkable works by artists from Philadelphia, New Jersey, New York City and select artists from across the country. In addition to the extensive collection of art available for purchase during the silent auction, the highlight of the evening will be the live auction of 12 cowboy hats, each a one-of-a-kind work of art created by regional artists. The hats will be on display in area businesses in the greater Trenton and Yardley area prior to the event.
Ziemer, president and founder of Run Free Ranch, stated, "Twenty-five years ago while tutoring youth from the Cabrini Green Housing Projects of Chicago, I had an idea. As I listened to the struggles of these kids' everyday life, I imagined opening a summer camp one day to teach them a set of life skills that they otherwise might not learn. I did not want their day-to-day challenges to limit who they could become. I wanted to equip them with skills to promote their sense of self-worth and the capability to achieve their dreams".
"Many of the young people in our target communities are at a loss on how to achieve and thrive across different cultures and environments. Run Free Ranch's program model will provide exposure, role models, opportunities and a safe place for participants to be at ease and grow," added Ziemer.
The featured artist for the Artist Round-Up event will be Marilyn Honig. Ms. Honig has a special interest in landscape painting. "Landscape painting is of primary importance in the 21st century. There is a renewal of interest in nature and a 'cry of alarm' over our disappearing resources. My focus on open spaces dovetails well with Sharon's vision of offering inner-city youth the chance to explore the great outdoors and open their minds toward unlimited opportunities for achievement with the right life skills," said Honig.
Ms. Honig's works have been presented in numerous galleries and exhibitions over the last 40 years. For over 25 years her art was exhibited at the Marilyn Honig Gallery in New York City. Most recently, she ran the Honig Gallery in Hopewell NJ for the past three years. Her artistic works are represented in private collections throughout the United States, Asia and Europe.
The Artist Round-Up will be held March 5th from 6 to 10 pm at Artworks of Trenton, 19 Everett Alley in Trenton. There will be live music, a silent and live auction, drinks and appetizers — all for $45 a person. Complimentary, attendant parking is available on site. Event tickets and certain art pieces can be purchased online at http://runfreeranch.org/BUYTICKETS.aspx.
The Run Free Ranch flagship location is scheduled to open in 2012 in Wyoming. The wide open space of Wyoming is analogous to what Run Free Ranch wants to impart to these children . . . wide open opportunities for life do exist — if chosen. The Run Free Ranch goal is to initially serve youth in the Philadelphia, Trenton, Camden, Newark, and New York City areas with the intention of expanding services nationwide over the years. The pilot program slated for one week in summer 2011 will be held in Somerset County, New Jersey for Trenton area youth.
About Run Free Ranch
Run Free Ranch's mission is to positively impact the lives of at-risk youth from urban communities by teaching them necessary life skills, expanding their frame of reference and offering positive role models and mentors. Using the medium of nature, the ranch will be a classroom where participants will learn an appreciation of the natural world, self-help and motivation skills, and the power of collaboration. Run Free Ranch is a not for profit 501c3 organization. For more information visit http://www.runfreeranch.org.
Media contact: Donna Weaver, 215.428.0972 or dbw(at)weaverworks(dot)us
# # #