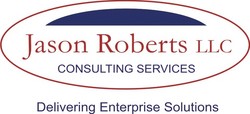 We applaud Jason Roberts LLC in becoming one of the first SAP services partners certified in the Run SAP methodology
Bala Cynwyd, PA (PRWEB) February 20, 2009
Jason Roberts LLC, an SAP® services partner, today announced it has been certified by SAP AG as a provider of solution implementation based on the Run SAP methodology. Jason Roberts LLC is among the first SAP partners to be certified in the Run SAP methodology and will incorporate the methodology into its implementation standards.
"As one of the first SAP partners to attain certification as a provider of solution implementation based on Run SAP, we further demonstrate our ongoing commitment to supporting SAP solutions," said Kevin Kelly, executive vice president and managing partner, Jason Roberts LLC. "By incorporating the Run SAP methodology into our own implementation standards, we are now providing our clients with a proven methodology for managing their SAP applications. This methodology will empower customers to manage their SAP applications more efficiently, thereby mitigating risk while maximizing return on investments."
The Run SAP methodology is ASAP methodology for operations. A phased methodology based on world-class knowledge, it provides best-practice procedures, content, services, training and tools for end-to-end solution operations, along with a standardized and proven implementation method. The Run SAP methodology focuses on application management, business process operations, and administration of SAP solutions. The methodology describes how support should be implemented across the lifecycle design, set-up, operations and optimization. In addition, with its best-practice documents for solution operations, it describes how to implement end-to-end solution operations for different SAP software-based business processes.
"We applaud Jason Roberts LLC in becoming one of the first SAP services partners certified in the Run SAP methodology," said Dr. Uwe Hommel, executive vice president of Active Global Support at SAP AG. "By adopting the end-to-end solution operations standards provided by the Run SAP methodology, Jason Roberts LLC will deliver to its customers a higher level of effectiveness and efficiency."
The Run SAP methodology is an integral part of SAP Enterprise Support services, a holistic support model designed to enable continuous improvement and successful solution operations at lower risk and cost.
SAP customers will realize the benefits of operating with the end-to-end standards. SAP standards for solution operations are a prerequisite for the continuous improvement of SAP solution operations. Not only do they enable automation, reducing the cost of operations, but also improved traceability and an audit trail, helping companies to achieve cost efficiency, quality assurance and compliance enablement.
About Jason Roberts LLC
Jason Roberts LLC is a national provider of business services and enterprise application solutions. Since its inception in 1985, Jason Roberts has used its highly experienced resources in development, quality assurance, and implementation to deliver high-quality, cost-effective solutions. Jason Roberts utilizes its Global Sustainable Deployment Framework® methodology to complement the ASAP and Run SAP methodologies in order to reduce costs, minimize risks, improve operational efficiency and enhance user productivity.
Specialized by industry, these product and service offerings include consulting, custom development, systems integration, change management, training, and technical services. Jason Roberts' clients include Fortune 500 and mid-market customers in the following industries: manufacturing, consumer package goods, chemical, pharmaceutical, aerospace and defense, automotive, healthcare, financial services, and professional service providers in addition to mining, oil and gas, retail and wholesale distribution. Specific management groups address the public sector and governmental agencies. Headquartered in Bala Cynwyd, PA, Jason Roberts is widely recognized by both private industry and the public sector as an innovative leader with a proven record of success.
To learn more about Jason Roberts LLC, visit http://www.JasonRoberts.com.
SAP and all SAP logos are trademarks or registered trademarks of SAP AG in Germany and in several other countries.
All other product and service names mentioned are the trademarks of their respective companies.
SAP Forward-looking Statement
Any statements contained in this document that are not historical facts are forward-looking statements as defined in the U.S. Private Securities Litigation Reform Act of 1995. Words such as "anticipate," "believe," "estimate," "expect," "forecast," "intend," "may," "plan," "project," "predict," "should" and "will" and similar expressions as they relate to SAP are intended to identify such forward-looking statements. SAP undertakes no obligation to publicly update or revise any forward-looking statements. All forward-looking statements are subject to various risks and uncertainties that could cause actual results to differ materially from expectations The factors that could affect SAP's future financial results are discussed more fully in SAP's filings with the U.S. Securities and Exchange Commission ("SEC"), including SAP's most recent Annual Report on Form 20-F filed with the SEC. Readers are cautioned not to place undue reliance on these forward-looking statements, which speak only as of their dates.
For more information, press only:
Mary Summers, Public Relations Officer
Phone 610-617-4SAP
###