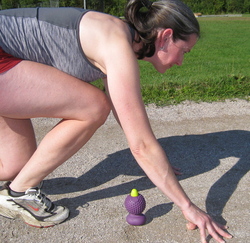 Whether you're training for a marathon, mountain bike race, or any other endurance sport, Muscle Angel Massagers® is a
Brookline, MA (Vocus) September 21, 2010
Los Angeles Sports and Fitness Magazine (LAS&F), an award winning sports magazine, gave Muscle Angels® rave reviews in its September 2010 Issue.
"Whether you're training for a marathon, mountain bike race, or any other endurance sport, Muscle Angel Massagers® is a "must have" in your workout arsenal!" said Heidi Creed, Editor of Los Angeles Sports and Fitness Magazine.
Creed was particularly taken with the versatility of the Muscle Angel®. "Muscle Angels are so compact that they can easily fit in your gym bag or travel with you to work for a midway tension relieve massage! This all-in-one muscle therapy device is the most easy-to-use, versatile product around, with three different surfaces that are uniquely combined to relieve pain in all those achy spots -- small or large, and conditions minor to chronic."
"Regardless of an athlete's ability, Muscle Angel Massagers® are effective at soothing such ailments as tight iliotibial (IT) bands, piriformis syndrome/sciatica, tendonitis and other common running-related afflictions" says Susan Z Robins, president of Muscle Angels®. "Muscle Angel Massagers® are also helping athletes who experience – cycling leg and hip pain, soccer foot and ankle injuries, tennis elbow, golf back pain, sore muscles from skiing, baseball and basketball, as well as people with disabilities who participate in Special Olympics and Paralympic sports activities, " she adds.
To read more testimonials, and to view the Instructional Training Videos designed to demonstrate how to get the most out of your Muscle Angel Massagers®, please visit http://www.muscleangelmassagers.com.
About Muscle Angels®
The Muscle Angels™ hand-held massager provides quick relief from muscle pain and fatigue while increasing flexibility, circulation, mobility and elasticity. Muscle Angel Massagers™ combine the benefits of Myofascial Trigger Point, Acupressure, and Deep Tissue Massage—all in one product, and it is the only massager of its type that has been designed with an easy-to-use hands-free option for people who suffer from bilateral hand and arm pain. The Stability Sleeve, an add-on product, enables users to access hard-to-reach muscles without assistance.
About LA Sports & Fitness Magazine
LOS ANGELES SPORTS AND FITNESS MAGAZINE is a full color, award winning, all glossy magazine specific to the Greater Los Angeles area covering the sports and fitness scene including -- running, triathlon, cycling, mountain biking, strength training, adventure racing, walking, cross training and other endurance sports.
###