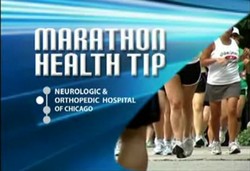 Chicago, IL (PRWEB) October 8, 2008
Forty-five thousand runners will be pounding the pavement during the LaSalle Bank Chicago Marathon on October 12. Training for the 26.2-mile-run can put a tremendous amount of stress on the body, especially the knees. In fact, statistics show that about one-third of injured runners struggle with knee pain.
But a new complimentary guide introduced by the Neurologic & Orthopedic Hospital (NOHC) of Chicago can help reduce the risk of knee injuries. The pamphlet, entitled "Runner's Rescue: Managing Your Knee Pain," includes information on common knee injuries in runners and tips for preventing those injuries.
According to doctors at NOHC, there are three primary types of knee pain that runners can develop. They include:
1. Runner's Knee or Patello-Femoral Pain Syndrome
Pain is concentrated under the kneecap and/or around the kneecap. The kneecap is designed to move smoothly over a groove on the (femur) thigh bone. When the patella is not moving properly over the femur, PFS can develop. This commonly occurs in runners and athletes, although non-athletes can develop it too.
2. Patellar Tendonitis
Pain is located below the kneecap. PT arises when the patellar tendon that connects the kneecap to the shin bone becomes inflamed and irritated. This is usually due to over-use
3. Iliotibial Band Sydrome
Pain occurs on the outside of the kneecap. This pain is usually a sharp, burning knee or hip pain and is very common among runners. The iliotibial band runs along the outside of the thigh, from the top of the hip to the outside of the knee. When the ITB tightens, it causes friction and tension where the ITB attaches to the outside of the knee. Overtraining is the most common cause, but running on an uneven surface, inadequate warm-up or cool-down may also lead to ITBS.
The "Runners' Rescue" also lists helpful stretches (with pictures) that can help reduce the risk of injuries. They include:

Hip Flexor Stretch
Glute Stretch
Supine Hamstring Stretch
Prone Quadriceps Stretch
Adduction or Inner Thigh Stretch
Outer Thigh
Calf Stretch
About Neurologic & Orthopedic Hospital of Chicago
The Neurologic & Orthopedic Hospital of Chicago is the country's first freestanding acute care hospital dedicated exclusively to neuroscience and orthopedic services. It utilizes breakthrough technology and minimally invasive techniques as well as advanced procedures for neurosurgery, orthopedics, pain management, neuro-oncology, sports medicine, and rehabilitation. To request a copy of the Runner's Rescue Knee Pain Guide, visit:
http://www.neuro-ortho.org
###