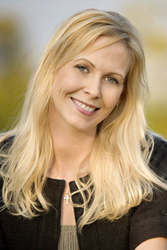 This book left me breathless. Stung at first by its many truths, the way an ocean's wave slaps you sideways before it retreats into gentle waters beckoning reluctant toes into the deep. — Nichole Nordeman, Dove Award-winning singer/songwriter
Colorado Springs, CO (PRWEB) December 12, 2009
Losing one's mind isn't an inevitable part of motherhood. Thinking women can and should continue to strive for the depths of intellectual and spiritual transformation, says Angela Blycker, author of Running into Water: Women Immersed in the Pursuit of God (Authentic, $12.99, paper, ISBN: 9781606570302). Immersing themselves in a deeper life with Jesus is essential to their own and their children's spiritual growth.
Blycker, an advocate for women's and children's issues globally, makes a strong, articulate case for the thoughtful Christian life. "Motherhood is not the place for easy sentimentality or humdrum rearing," she says. "I believe that the reason we pour ourselves into the next generations is as much for who we will become as it is for who they will become."
Rather than a "how-to" book on balancing motherhood with Bible study, Running into Water focuses on the deeper questions of spiritual transformation for women with children. Blycker draws from women's stories globally to demonstrate what a spiritually challenging and intellectually stimulating life can look like for mothers.
Running Into Water is organized in three main parts: Christian beliefs, practices, and intentions. Each part contains chapters drawing women into thoughtful examination of their beliefs and spiritual habits, challenging them to go deeper into the living waters of God's presence and purpose for their lives. Chapters conclude with a prayer and suggestions for further Scripture exploration.
"Understanding the deep thirst in a mother, Blycker fills our cup over and over, leading us back to the One who 'has the divine ability to satisfy thirst with even more good thirst,'" says Dove Award-winning singer and songwriter Nichole Nordeman in her preface to Running into Water. "I shed many tears into my own cup at this realization."
Angela Blycker studied at Moody Bible Institute and has a degree in biblical studies and international missions. She and her husband live on the Florida Gulf Coast with their three young children.
Blycker plans to give a portion of the proceeds from the sales of Running into Water to Living Water International, an organization committed to easing the global water crisis.
About Biblica (formerly International Bible Society)
Biblica's vision is to transform lives through God's Word by translating, producing, and distributing Bibles, Scripture materials, and other Christian resources through ministry, distribution, and retail channels so people around the world may become disciples of Jesus Christ. Biblica operates in 46 countries and is the sponsor and copyright holder of the New International Version® family of contemporary-English Bible translations. For more information, visit http://www.Biblica.com.
# # #