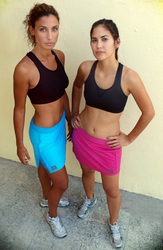 The initial reviews we have received on the Zensah® running skirt have been phenomenal
Los Angeles, Ccalifornia (PRWEB) February 28, 2008
Zensah® (http://www.zensah.com), the originator of seamless performance apparel and running skirts, today announced the global debut of the Zensah® running skirt. The convergence of fashion and sports has led to the sky rocketing adoption of running skirts across America.
The Zensah® running skirt is not your typical pink running skirt. It has a built in lycra compression short which means no thigh bunching, and a non-elastic waist band eliminates chafing. Zensah Fabric®, a proprietary fabric, wicks away moisture, fights bacteria and odor.
The innovative technology makes the Zensah® running skirt the best running skirt to date. The Zensah running skirt will be on display at The City of Los Angeles Marathon Expo at Zensah's® booth #1246 taking place at the Los Angeles Convention Center from February 29-March 1, 2008.
Now women can run with more comfort than ever before. Over the years there have been many variations of the running skirt, which have included a jogging skirt, lycra skirt, exercise skirt, running skort and even a fitness skirt. Until now they all have been made using cut-and-sew technology. These types of athletic skirts can be uncomfortable, and do not provide the performance that the active women of today demand. Typically they're made with common polyester, which is very coarse on the skin. The Zensah® running skirt is different incorporating soft Zensah Fabric®.
It is challenging enough to complete in a half marathon or marathon. Women's running skirts should make training easier, not harder. By creating a more comfortable running skirt with Zensah Technology® the women's running experience will improve dramatically. The Zensah running skirt will attract women who seek both style and performance.
The Zensah running skirt features and benefits include:

Seamless Construction reduces chafing
Zensah Fabric® non-odor, and anti-microbial
Ultra breathable, and moisture wicking
Thermo regulating, preserving body warmth when its cold, and keeping you cool when its hot
"The initial reviews we have received on the Zensah® running skirt have been phenomenal," says Ryan Oliver Director of Marketing. "We see the Zensah® brand extending further into a demographic that is extremely loyal to the Zensah® brand. From high performance athletes to soccer mom's the Zensah running skirt will become a staple item in women's running." Mr. Oliver went on to say "The buzz around the Zensah® running skirt has been incredible, and the current demand has exceeded supply."
Pricing and Availability
The Zensah® running skirts are available in black, pink and baby blue, and are available for purchase at specialty running, cycling and triathlon store. The running skirt is also available for purchase over the internet at http://www.zensah.com/9300.html. The Zensah® running skirts retail at $49.99.
About Zensah®
Zensah®, based in Miami, is the originator of the seamless running skirt. the first running skirt to provide exceptional comfort. The company focuses on developing high tech running skorts, athletic skorts, excercise skirts, running, cycling and triathlon performance apparel. For more information please visit http://www.zensah.com
# # #