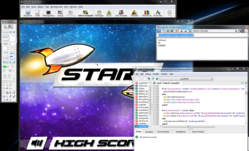 LiveCode kicks apps into high gear with visual effects, gamified features that engage users, and social elements for productivity or fun.
(PRWEB) October 11, 2011
RunRev Ltd, makers of the LiveCode cross-platform development environment for mobile, Web and desktop applications, introduces LiveCode 5, featuring a new high-performance graphics engine that infuses apps with stunning visual effects and gamification features. LiveCode 5 brings developers everything they need for awesome game creation on iOS devices, along with dynamic commercial applications, more visual enterprise-grade utilities, and engaging educational tools for students. By enabling developers to create software with game-play mechanics—features that drive engagement, loyalty, sharability and fun—developers are creating dynamic applications that will shape software development and be used by more than 70-percent of Global 2000 organizations by 2015. 1
LiveCode was uniquely designed to give software and mobile app developers the easiest way to create applications for any platform or purpose, with the ability to write apps once and deploy to seven popular platforms—iOS, Android, Web, PC, Mac, Linux and Server. LiveCode-built applications range from commercial apps created to make work and life more productive, to educational apps that engage students to enjoy learning new lessons, to software that manages the real-time flight booking systems of a major airline, and everything in between. LiveCode developers are creating mobile, desktop and Web apps twice as fast as other platforms and from a single code base.
LiveCode 5 includes more than 2000 features for robust yet surprisingly simple development projects, with pricing starting at $99, and $49 for upgrades. Developers can take advantage of the full feature-set and speed enhancements without rewriting a single application. Additional new features include:

Support for iOS 5: LiveCode-built iOS apps will make use of the feature set of the iPad2 and new iPhone 4S for the most current app deployment.
High-Performance Graphics Engine: Utilizes graphics hardware acceleration and OpenGL, animated sprites, textures and scrolling backgrounds, collision detection, vector graphics in popular formats, drop shadows, transition effects, and multi-channel audio and video.
Fastest App Performance: Ten times faster graphics than previous LiveCode versions.
In-App Purchases: Support for In-App purchases give developers revenue opportunities that account for approximately 72-percent of all revenue for iPhone apps with the option.2
Gamification Elements: Game design techniques and mechanics that engage users in non-game applications, such as mixing rich graphics, animation and interactivity functions with traditional interface elements such as buttons, text boxes and scrolling data grids. LiveCode uniquely enables the application of hardware-accelerated graphics within the traditional app user experience, bringing rich graphic effects to the app interface.
Agile Development Process: Real-time prototype creation, ability to view changes as you make them, slashes debugging time with understandable code, and significant time saving over JavaScript or Objective C.
Free Animation Engine: Taking full advantage of the new features in LiveCode 5, Animation Engine is a powerful third-party add-on that enables movement of objects and impressive motion effects to apps. RunRev is offering the $79 add-on free with all purchases in October.
Easiest to Learn and Use: Responsive and visual development system, drag-and-drop to create projects in small chunks, seamless performance with complex scrolling lists, and modern programming language.
"Our focus with the new version of LiveCode was to help developers get the job done, from simple apps that solve specific challenges to the most sophisticated development projects," said Kevin Miller, RunRev CEO. "We've packed more than 2000 features into LiveCode 5, and kick apps into high gear with visual effects, gamified features that engage users, and social elements for productivity or fun. LiveCode 5 blends a unique mix of ease and speed with productivity and engagement, ensuring that whatever app is required, LiveCode will get it done and save a significant amount of time in the process."
LiveCode Development Environment
LiveCode is an alternative development environment that enables easier and faster application development across all major devices and platforms without the need to recode or rewrite apps.
The platform is used broadly by software development houses, educators both teaching programming and creating custom apps for coursework, commercial software vendors, and enterprises writing custom utilities or productivity software. Developers have gone from limited experience to creating spectacular apps in weeks or months, and have created successful businesses built solely around LiveCode app creation.
LiveCode 5 is available today at http://www.runrev.com and starts at $99 US for a single seat license, with upgrade pricing at $49 US for existing LiveCode developers. RunRev also offers LiveCode in an extended trial with a free course in mobile app development, giving developers and students a chance to create the game or app they've dreamed of in just a few weeks time. LiveCode Academy is an accelerated course in the principles of programming, and available throughout the year as a live course, or on demand during the free LiveCode trial.
About RunRev Ltd.
RunRev makes the LiveCode cross-platform development environment for creating applications for mobile, Web, desktop and server more than twice as fast as any other development environment. Using a visual development system based on live coding, application changes appear in real-time, while the natural programming language eliminates complex code and symbols for modern development. LiveCode appeals to both new and professional programmers, IT and enterprise developers, educators and individuals who want a robust yet flexible path to cross-platform app creation. For more information, please visit http://www.runrev.com.
###