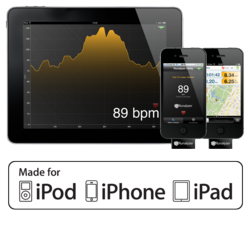 Measuring my performance with the Runalyzer has made me even more addicted to sport. I'm always trying to improve myself while still having fun! says Julia T, 34, from Paris, FR.
Saint-Denis, France (PRWEB) October 12, 2011
Runware presents the Runalyzer, the first patented heart rate monitor made for iPhone, iPad and iPod Touch, compatible with all analog chest straps and integrated with several apps in the App Store. The Runalyzer is aimed at both beginners and experienced athletes who want to measure the impact of their training and monitor their progress. It is ideal for casual runners and anyone who would like to start again a physical activity.
Heart rate is the most relevant indicator for measuring effort and improving performance in many sports, including walking, running, cycling and skiing. It provides a better understanding of physical ability and a view of the progress made (in term of loss of calories, fat loss, heart rate, cardio zones, vocal coach, speed, distance, route, ...). This is why many athletes use a watch and a chest strap to measure and display their heart rate in addition to their iPhone or iPod touch to listen to music.
The Runalyzer is a small electronic receiver weighing just 4 grams, which plugs to the iPhone or iPod Touch, removing the need for a watch while remaining compatible with existing chest straps.
This makes it possible to correlate the heart rate transmitted directly to the application with the other measurements provided by the iPhone: altitude, three-dimensional acceleration and orientation, GPS location, average, maximum and instantaneous speed, number of steps, duration of the exercise, etc. Combining this data, it is possible to achieve precise calculations of energy consumption, fat loss and intensity of physical effort (transitions between heart rate zones) in each training session, whether you are a beginner or an experienced athlete.
The Runalyzer is already integrated with several sport, healthcare and fitness applications available from the App Store. Others are still under review by Apple. The Runalyzer is also compatible with all existing analog chest straps, whether coded or not (Polar, Sigma, Wearlink, Mio, Geonaute, Kalenji, Suunto, Domyos ...).
The Runalyzer, a patented accessory, was developed specifically for the iPhone, the iPad and the iPod Touch and meets Apple's performance standards, guaranteeing total compatibility with the iPhone 4S and the future iPhone 5.
The Runalyzer API enables iOS developers to integrate the Runalyzer key easily into their own applications.
To complete the bundle, Runware offers an optional fabric chest strap and a sport armband.
Olivier Pascal, Runware's founder: "With the Runalyzer, occasional and regular athletes finally have a convenient and affordable solution to help them measure and improve their daily training.".
The Runalyzer heart rate monitor for iPhone, iPad and iPod Touch is available right now on http://www.runalyzer.com at 69 USD.
###