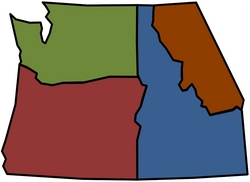 Although we have grown substantially, we continue to work with small providers to bring them the same success potential all our clients enjoy. PNWISE realizes the importance of these small providers through their innovative ISPartner programs
Hood River, Oregon (PRWEB) July 15, 2009
Aspen Wireless Networks, Inc., who is celebrating their 10th year as renowned broadband consultants and entrepreneurs announced today it was selected by a broadband cooperative in the Pacific Northwest known as PNWISE, who is actively working to create ubiquitous rural broadband service in four states; Washington, Oregon, Idaho and Western Montana. PNWISE is bringing together leadership in small communities, local service providers and state-level government to create the vital partnerships required to achieve rural broadband service.
Aspen Wireless Networks will be providing services to PNWISE from its extensive portfolio including broadband mapping (to the census block), financial modeling, public-private partnerships, business planning, technology engineering and systems integration to ensure PNWISE will meet its goal. Aspen Wireless will also engage in collaborative grant preparation with PNWISE for a grant submission to the NTIA and RUS under the recently announced $4 Billion first round of the total $7.2 Billion allocated for broadband under the ARRA stimulus act.
"We have been stirring this pot for years now, but Aspen Wireless is the key component to turning this dream in to a reality," said Link Shadley, Managing Member of PNWISE. "Cooperatives brought electricity, telephone and other vital utilities to rural areas and we are committed to delivering affordable broadband as the next utility to our part of rural America."
"We love rural broadband and always have - it was the founding reason for our company a decade ago and remains the highest priority to us today," stated Scott Stevens, Co-Founder of Aspen Wireless. "PNWISE embodies rural broadband and has done an amazing job of fostering support and creating a real plan for delivering advanced broadband services to rural America. These guys have it nailed."
This is not the first large-scale project Aspen Wireless has worked on. In 2002 Aspen Wireless worked on National Broadband, which leveraged relationships with WilTel, Intel and Wal-Mart to deliver middle-mile and last-mile connectivity at 422 points across 38 states. Aspen Wireless has also provided the same rural broadband solutions to companies like CenturyTel. Last year, Aspen's principal consultant and co-founder Scott Stevens was a member of The Obama Campaign's Technology/Media/Telecom Policy Committee.
"Although we have grown substantially, we continue to work with small providers to bring them the same success potential all our clients enjoy. PNWISE realizes the importance of these small providers through their innovative ISPartner programs," stated Mr. Stevens. "We were inspired to take PNWISE on as a client."
Pacific Northwest Internet Service Everywhere broadband cooperative will be leveraging wireless technology as the most cost effective and advantageous way to deliver multi-megabit service to rural America. Wireless technology allows PNWISE infrastructure to be leveraged for public safety mobility for first responders and emergency personnel as well as provide backhaul for SmartGrid, which is particularly important to utility leaders in the Northwest region. Additional infrastructure will be deployed specifically to provide hundreds of megabits and even gigabits to key community institutions in rural communities such as education, healthcare and municipal government and will feature grid independence and network redundancy.
"Wireless easily meets the current and future demand of rural America. We intend to exceed the 20Mbps service preferred by the NTIA and USDA RUS for a fraction of the cost of fiber, putting Northwest rural America ahead of general metropolitan populations," stated Mr. Shadley. "Best of all, it will be affordable."
About Pacific Northwest Internet Service Everywhere
PNWISE is a broadband cooperative focused on providing ''affordable broadband for everyone'' without prejudice to all rural areas across the Pacific Northwest including Oregon, Washington, Idaho and Western Montana. PNWISE is continuing to seek partners in communities across the region to join and become involved in delivering the broadband utility. As a middle-mile backhaul provider, PNWISE will connect local government, economic development districts, educational school districts, higher education, healthcare and public safety facilities. PNWISE will also discuss additional needs of public safety for multi-megabit mobility and inter-agency interoperability.
For partnership or information inquiries for PNWISE please email info(at)pnwise(dot)org. For press inquiries please contact press(at)pnwise(dot)org.
About Aspen Wireless Networks
Aspen Wireless Networks is celebrating a decade of broadband consulting and market leadership. Aspen Wireless provides consulting services that leverage years of applied knowledge and leadership insight to create well-refined and realistic broadband businesses and successful deployments. The company specializes in all broadband technologies including fiber, wireless, cable and copper including hybrid networks. Aspen Wireless has served hundred of clients and worked on significant projects, providing services including; business planning, financial modeling, partnerships, network engineering, application engineering and network deployment.
For sales inquiries or for general information please visit Aspen Wireless Networks website at http://aspenwireless.net/.
###