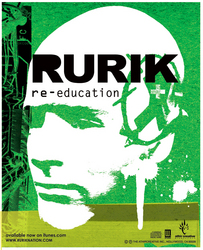 Hollywood, CA (PRWEB) June 2, 2008
Music group RURIK is pleased to announce the release of their new album RE-EDUCATION. This sophomore release has been mixed by Jay Baumgardner at NRG Recording Studios and engineered by Dan "MFDC" Certa.
Chief Mastering Engineer Ted Jensen has finalized the project at Sterling Sound.
Additional tracks by Rudy Haeusermann, Tim Harkins, Dave Dominguez, JohnO.
The official add-date for Planetary Group radio campaign is Aug 4, 2008.
RURIK has been packing fans in at larger nightclubs in Hollywood.
For updates, visit http://www.ruriknation.com
Contact:
Jeff Olson
Athir Creative Productions
(323) 856-9422
(323) 860-3299 fax
###