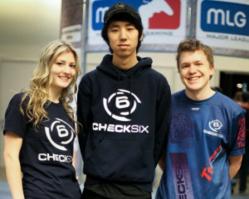 Branding is a key component of most successful e-sports organizations
Philadelphia, PA (PRWEB) March 30, 2012
This past weekend, Major League Gaming held its annual Columbus invitational, kicking off the regular 2012 season. Among the teams that entered, Check Six Gaming sported custom hoodies and custom t-shirts made by Rush Order Tees.
"Branding is a key component of most successful e-sports organizations, and is one of the most important aspects for growing the e-sports industry and legitimatizing its image in mainstream culture." Said Matt Price, Operations Manager. "That's why we were happy to be the screen printers of choice for teams like Check Six. We saw some photos of the team in our apparel at the event and it looks like a great time was had by all."
Custom t-shirts are printed in the same method as other custom apparel. Custom apparel is popular with fan groups, schools and professional sports teams.
"We print custom garments for competitive teams on a daily basis — whether it's on a physical field for sports, a virtual field for e-sports, or a stage for competitive academics. " Noted Jim Donaghy, Production Manager,. "We share the participants' vigor and take pride in making them look the best that they can in our products.
Contact Rush Order Tees at (800) 620-1233.
About Rush Order Tees | a Printfly Company
Printfly and Rush Order Tees are eCommerce based businesses built on repeat business and referrals from satisfied customers, Rush Order Tees has grown to be a major leader in the custom shirt printing industry.
Since it's founding in 2002, Rush Order Tees has expanded its product offering beyond custom printed shirts to include a wide variety of sports, academic, community-driven, commercial and business offerings including company polos, custom business shirts, custom team jerseys, custom printed hats, custom printed sweats, custom college shirts, school jerseys, custom totes, custom aprons, and more.
As it began to grow out of it's prior facilities, Rush Order Tees acquired a 15,000 SF facility in North East Philadelphia, PA which they equipped with over twenty of the highest quality screen printers, digital printers (DTG Direct to Garment printers), screen exposure units, screen printing heaters and much more. Now, in 2012, the business continues to grow to a point that now requires a new facility and offices.
As the company grew, it continued to offer free nationwide shipping along with "no fee" polices and industry leading low prices. Through the years, Rush Order Tees has developed a reputation for excellent service, value and quality. Their customers have voiced their well earned allegiance and appreciation across many consumer-driven review sites earning Rush Order Tees and Printfly overwhelmingly positive online rating and reviews across the leading sites including Google, Superpages, Yellow Pages, and the Better Business Bureau where they hold a certified A+ Accredited Rating.
Contact Rush Order Tees at 1 (800) 620-1233