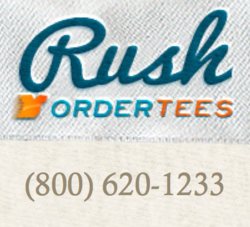 The pressure was certainly on.
Philadelphia, PA (PRWEB) March 26, 2012
Screen Printers, Rush Order Tees printed custom hoodies this month for professional eSports team, Check Six Gaming.  The team wore their new casual custom team uniform at the Lone Star Clash Gauntlet of Champions tournament in Texas.
With a prize pool of over $10,000 and some of the biggest names in competitive video gaming present and accounted for, the pressure was certainly on.
"We were happy to see Check Six's newly acquired player, Sleep, place third in the event while donning one of the screen printed shirts we made for the team" noted Jim Donaghy, Screen Printing Production Manager. "We're rooting for them in the future and appreciate their choosing Rush Order Tees for their custom t-shirts and team apparel."
For more details on custom printed shirts contact Rush Order Tees at (800) 620-1233.
About Rush Order Tees | a Printfly Company
Printfly and Rush Order Tees are eCommerce based businesses built on repeat business and referrals from satisfied customers. Originally launched to satisfy the demand for quick turn around custom printing projects for both consumers and businesses, the Rush Order Tees brand has grown to be a major leader in the custom shirt printing industry for both rush and non-rush standard turn around projects.
Since its founding in 2002, the Company has expanded its product offering beyond custom printed shirts to include a wide variety of sports, academic, community-driven, commercial and business offerings including company polos, custom business shirts, custom team jerseys, custom printed hats, custom printed sweats, custom college shirts, school jerseys, custom totes, custom aprons, and more.
Made necessary by consistent growth, Printfly acquired a 15,000 SF facility in North East Philadelphia, PA which Rush Order Tees operates from after equipping the facility with over twenty of the most advanced and fast screen printers, digital printers (DTG Direct to Garment printers), screen exposure units, screen printing heaters and much more. Now, in 2012, the business continues to grow to a point that now requires a new facility and offices.
Based in Philadelphia being a contributor to the local economy in and out of the city limits, the company is in negotiations to acquire a new facility staying based in the city of brotherly love with sipping locations and warehouses throughout the United States. They will continue serving the entire US (all 50 states) and Canada with their policy of standard free shipping through UPS to all 50 states under both the Printfly and Rush Order Tees brands and sites. Rush Order Tees currently offers customizable shipping options which will extend to Printfly in the near future.
Rush Order Tees and Printfly continue to offer free nationwide shipping along with "no fee" polices and industry-leading low prices. Through the years, the company has developed a reputation for excellent service, value and quality. Their customers have voiced their well earned allegiance and appreciation across many consumer-driven review sites earning Rush Order Tees and Printfly overwhelmingly positive online rating and reviews across the leading sites including Google, Superpages, Yellow Pages, and the Better Business Bureau where they hold a certified A+ Accredited Rating.
Contact Rush Order Tees at 1 (800) 620-1233