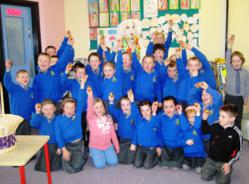 Check reviews, ratings and standing with the Better Business Bureau .
Philadelphia, PA (PRWEB) March 31, 2012
As an increasing number of families and churches order custom t-shirts for Easter, the Art Department at Rush Order Tees has posted a "how-to" guide to custom made t-shirts for Easter and any holiday.
Contemporary screen printers have newer technology that allows consumers to be more creative. Online design studios provided t-shirt design ideas including images and text as well as support uploads of personal images. No matter which holiday consumers are celebrating with custom tees, these online design tools offer a great deal of freedom.
Rush Order Tees Operations Manager, Matthew Price explained, "Many makers of screen printed t-shirts have designs for holidays such as Christmas, Hanukkah, Kwanzaa, Thanksgiving, Mother's Day, Halloween, New Years and others. However, this doesn't mean that you have to be limited to these to design your own tshirt.
"Find an image or create one to that suites the specific occasion. You can then add text to further express yourself."
Price also suggested that, "cheap custom t-shirts don't have to be poor quality."
He elaborated recommending consumers make certain they are dealing with a reputable business. "Check reviews, ratings and standing with the Better Business Bureau. Whether you decide to make your own t-shirt for yourself or for your entire family, staff or friends, you will find many options online. If creating Easter t-shirts as a fun gift for your company, consider adding your company logo as an extra advertising tool. Whenever your staff or clients are out and about with your holiday-themed company t-shirts, they will be showcasing your services or products."
There are many sporting events including running races that take place on holidays such as Thanksgiving. Most people love having mementos of such occasions and will happily purchase race t-shirts with a holiday theme as a way to support the event. Such t-shirts can also be given to participants of the event to be worn during or after the race.
Families and friends often get together for the holidays and custom designed t-shirts can be a great way to create a sense of unity. They are also excellent gifts that serve as keepsakes after the occasion. Many people appreciate humorous holiday t-shirts or those that include family surnames and the year of the get together. Creating a custom t-shirt can be as easy as choosing an already available design from a print shop or creating a unique design from scratch.
Contact Rush Order Tees at (800) 620-1233.
--
About Rush Order Tees | a Printfly Company
Printfly and Rush Order Tees are eCommerce based businesses built on repeat business and referrals from satisfied customers, Rush Order Tees has grown to be a major leader in the custom shirt printing industry.
Since it's founding in 2002, Rush Order Tees has expanded its product offering beyond custom printed shirts to include a wide variety of sports, academic, community-driven, commercial and business offerings including company polos, custom business shirts, custom team jerseys, custom printed hats, custom printed sweats, custom college shirts, school jerseys, custom totes, custom aprons, and more.
As it began to grow out of it's prior facilities, Rush Order Tees acquired a 15,000 SF facility in North East Philadelphia, PA which they equipped with over twenty of the highest quality screen printers, digital printers (DTG Direct to Garment printers), screen exposure units, screen printing heaters and much more. Now, in 2012, the business continues to grow to a point that now requires a new facility and offices.
As the company grew, it continued to offer free nationwide shipping along with "no fee" polices and industry leading low prices. Through the years, Rush Order Tees has developed a reputation for excellent service, value and quality. Their customers have voiced their well earned allegiance and appreciation across many consumer-driven review sites earning Rush Order Tees and Printfly overwhelmingly positive online rating and reviews across the leading sites including Google, Superpages, Yellow Pages, and the Better Business Bureau where they hold a certified A+ Accredited Rating.
Contact Rush Order Tees at 1 (800) 620-1233