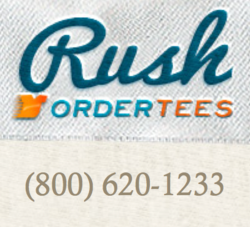 Being prepared for the worst can ensure your custom t-shirts will be wearable for years to come.
Philadelphia, PA (PRWEB) March 29, 2012
Custom t-shirts might be for one event or occasion, but they can last for years as part of a wardrobe. According to leading screen printers - Rush Order Tees - many customers design t-shirts as activewear as team jerseys so of course, stains are bound to occur.
Custom tshirts company Rush Order Tees has released the following tips tips remove stains from t-shirts and more.
Mud
For mud stains, professional screen printers recommend first letting the mud dry before attempting to remove the stain. Once dry, remove as much mud as possible with a dry brush. Remaining mud can be removed with normal washing or sponging with standard laundry detergent or powder, but if the stain is a greasy mud stain it is a good idea to pre-treat the stain with spot remover or a grease solvent (dry cleaning solution). Repeat if necessary.
Fruit Juices
When it comes to fruit juice stains on screen printed shirts, time is of the essence. In a wet form, fruit juice stains are relatively easy to remove — but once dried, they can be quite troublesome to eradicate from any fabric.
Rush Order Tees experts recommend treating the stain with cold water and a laundry detergent or bleach (if appropriate) as soon as possible. White shirts can be spread over a make-shift basin and boiling water can be poured through the shirt from a variable height. Colored garments can be soaked in a warm borax solution (1 tbsp to 1 cup of water is a typical ratio).
Ice Cream and Dairy
First sponge the stain with luke warm water. Wash as usual.
Rust
The following method is safe for use on white fabrics, but for colored fabrics it is necessary to test the method first to ensure it will not damage the fabric. Drop lemon juice and a little pinch of salt on the stain, and leave it in the sun to dry out. Afterwards, wash normally and the rust spot should be diminished. Repeat if necessary.
Grass Stains
For removing stains after a day of outdoor activities, it may be necessary to address grass stains found in clothing. Soak the stained garment in a chlorinated bleach solution. After soaking thoroughly, wash normally with laundry detergent or powder.
 
"These are just some common stain types that one can come across in everyday life. Being prepared for the worst can ensure your custom t-shirts will be wearable for years to come." explained Jim Donaghy, Rush Order Tees Screen Printing Production Manager.
Contact Rush Order Tees at (800) 620-1233.
About Rush Order Tees | a Printfly Company
Printfly and Rush Order Tees are eCommerce based businesses built on repeat business and referrals from satisfied customers. Originally launched to satisfy the demand for quick turn around custom printing projects for both consumers and businesses, the Rush Order Tees brand has grown to be a major leader in the custom shirt printing industry for both rush and non-rush standard turn around projects.
Since it's founding in 2002, the Company has expanded its product offering beyond custom printed shirts to include a wide variety of sports, academic, community-driven, commercial and business offerings including company polos, custom business shirts, custom team jerseys, custom printed hats, custom printed sweats, custom college shirts, school jerseys, custom totes, custom aprons, and more.
Printfly acquired a 15,000 SF facility in North East Philadelphia, PA which Rush Order Tees operates from. They have equipped the facility with over twenty of the most advanced and fast screen printers, digital printers (DTG Direct to Garment printers), screen exposure units, screen printing heaters and much more. Now, in 2012, the business continues to grow to a point that now requires a new facility and offices.
Through the years, they've developed a reputation for excellent service, value and quality. Their customers have voiced their well earned allegiance and appreciation across many consumer-driven review sites earning Rush Order Tees and Printfly overwhelmingly positive online rating and reviews across the leading sites including Google, Superpages, Yellow Pages, and the Better Business Bureau where they hold a certified A+ Accredited Rating.
Contact Rush Order Tees at 1 (800) 620-1233.