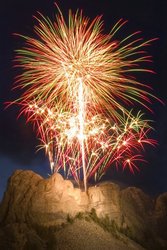 The fireworks and events of the weekend put an exclamation point on what, for many, is the classic all-American family vacation
Pierre, SD (Vocus) June 17, 2009
Mount Rushmore National Memorial will again kick off America's birthday party and Fourth of July celebration with one of the largest fireworks displays in the country. The twelfth annual event will take place on July 3rd with thousands of shells creating a stirring and memorable half hour show.
The annual Independence Day celebration is packed with events and draws people from all over the world to Mount Rushmore and the Black Hills. This year's events include military aircraft fly-overs, music, dances, historic re-enactments, children's shows and a ceremony to honor a special group of WWII veterans.
"The fireworks and events of the weekend put an exclamation point on what, for many, is the classic all-American family vacation," said Richard Benda, secretary of the Department of Tourism and State Development. "It is truly our privilege to host this event in such a beautiful and historic place as the Black Hills."
"The sight of fireworks lighting the night sky above Mount Rushmore is an experience that stays with people for a lifetime," said Diana Saathoff, executive director for the Mount Rushmore Memorial Society. "You can see in the faces of young and old alike the awe of the scene and the incredible sense of patriotism it inspires."
The memorable fireworks show will be broadcast to media outlets all over the country via a live satellite feed. In 2008, more than 30,000 people witnessed the event and another 53 million people watched the pyrotechnic display on television.
Fast Facts:
The Hall of Records, a partially carved cave behind the mountain, was originally meant to house important documents like the Constitution and Declaration of Independence, but today it houses a vault and the Independence Day fireworks.
The face of George Washington was officially dedicated on July 4, 1930. The face was unveiled from behind a 39 ft by 67 ft American flag that was hand-made by The Rapid City Women's Club.
Mount Rushmore was never fully completed. Sculptor Gutzon Borglum died before his vision was realized. His son Lincoln tried to complete the project but funding ran out and the monument was declared complete on October 31, 1941.
Over 400 men and women worked for 14 years to carve the mountain. The average wage was $8.00 a day—good money during the Great Depression.
Mount Rushmore was named after New York City attorney Charles E. Rushmore. In 1885, Rushmore was in the Black Hills on a business trip when he asked his guide, Bill Challis, about the name of the mountain. Challis replied, "Never had a name but from now on we'll call it Rushmore." The United States Board of Geographic Names officially recognized the name Mount Rushmore in June 1930. Charles Rushmore reportedly donated $5,000 for the carving of the mountain—the single largest private donation recorded.
There are approximately 32 lights that illuminate the memorial equaling about 18,800 watts.
Links:
Mount Rushmore National Memorial
Mount Rushmore National Memorial Society
South Dakota Office of Tourism
Satellite Feed Coordinates:
Galaxy 17 Orbital position 91' West Longitude
Downlink Frequency 11960 Horizontal This is a 36 MHz analog transmission.
Audio Frequencies 6.8 & 6.2 MHz
Satellite Window 23:00 to 24:30 Eastern or 21:00 to 22:30 Mountain Time Zone
Transponder 13 Ku. ( analog transmission )
Randy Johnson, Truck Engineer, 612-868-6642 (cell).
Contacts:
Amy Bracewell, Mount Rushmore National Memorial, 605-574-2523, amy_bracewell(at)nps.gov
Wanda Goodman, Media & PR Manager of the SD Office of Tourism, 605-773-3301, wanda.goodman(at)state.sd.us
*All photos must be credited to the South Dakota Office of Tourism.
###