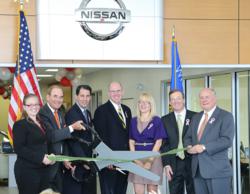 Investing in a new dealership means you've got confident people in this region who feel good about buying a car; that's good for the economy. It tells other small businesses that consumer confidence is coming back
Milwaukee, WI (PRWEB) October 12, 2012
Wisconsin Governor Scott Walker, Nissan Americas' officials, state and local lawmakers, and area business owners joined Russ Darrow and Mike Darrow to mark the opening of Russ Darrow Nissan in the Metro Auto Mall on Milwaukee's northwest side Wednesday.
Walker congratulated Russ Darrow on his continuing investments in the community. "Investing in a new dealership means you've got confident people in this region who feel good about buying a car; that's good for the economy. It tells other small businesses that consumer confidence is coming back," Walker said.
I'm proud to invest in this business," Darrow said. "It's about jobs and belief in our industry. Through this dealership we will generate more jobs and income for the state and city."
Darrow said he expects continued growth of sales from the Nissan brand. "Sales are up 30 percent from last year, and our sales target will be higher this year."
Among those in attendance for an official ribbon cutting ceremony were: State Senators Alberta Darling and Mary Lazich, and State Representatives Jeff Stone, Don Pridemore and Dan Knodl, Granville/Brown Deer Chamber of Commerce Coordinator Mary Hoehne, and Nissan Americas' Vice Chairman Bill Krueger, Regional Vice President Bryan Dumais, and Senior Manager Patrick Roche.
Krueger noted that in 2011, Nissan had the highest volume of sales of its brand that is sourced in North America.
Russ Darrow Nissan moved to its new location at 11212 Metro Auto Mall in Milwaukee in August. The dealership's move introduced Russ Darrow Group to the regional automobile shopping district in Northwest Milwaukee. The 19,000 square foot complex features a Nissan-approved design and includes three electric charging stations for the Nissan Leaf, the car manufacturer's all-electric vehicle.
The building includes a 5,000-square-foot showroom, 11 service and two quick-lube bays, and an expansive parking area. Its location offers easier, more convenient access to the highway. Customer comfort and convenience amenities to enhance the new car buying experience include free WiFi, televisions, multiple customer lounges, and more vehicle space in the showroom.
Russ Darrow Group, headquartered in Menomonee Falls, is Wisconsin's all-time volume auto retailer since 1965. It owns and operates dealerships in Milwaukee, Appleton, Madison, Fond du Lac, Waukesha, Wauwatosa, West Bend, and Greenfield, representing Chrysler, Jeep, Dodge, Ram, Toyota, Scion, Honda, Nissan, KIA, Mazda, and Mitsubishi. With over 600 employees, the company also operates a nationwide fleet and leasing business and has its own in-house financing company.