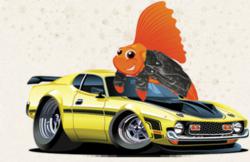 If [Brand] has figured out a way to [brush it off and not hold onto anything negative], he could make millions sharing his secret with other guys.
Los Angeles, CA (PRWEB) March 31, 2012
RoadFish.com men's lifestyle and finance magazine today pointed toward Russell Brand as a beacon of positivity, after his optimistic interview with People. RoadFish.com also wonders if the British comedian will move back to his home turf of England, as was rumored back in January in the days just prior to the finalization of his multi-million dollar divorce from pop singer Katy Perry.
Stephen M. Silverman of http://www.people.com/people/article/0,,20583214,00.html [People __title__ People] reported that in Russell's interview with People, the actor/comedian stated that there was no reason he shouldn't be doing well, and is quoted as saying, "You don't need to brush it off if you don't get it on you in the first place. I don't have to let anything go. I don't hold on to anything negative. It's the same as zero-ness."
In an article by Aaron Tinney, UK celeb gossip magazine the Daily Star claimed back in January that Brand may be considering moving back to England in the wake of his divorce from Katy Perry, which was finalized in February. The article reports that "friends" of Brand's told the Daily Star, "[Russell] would be keen to move back to Britain as he needs a fresh start. It's a terrible time for him and despite his growing fame in America, he wants to cope with it by being back on home turf." Although there hasn't been much by way of further confirmation that Brand would move back to Great Britain, he did take away a reported 20 million pounds from the divorce—enough to invest in an upscale bachelor pad flat in Notting Hill or South Kensington. If he did go public with a move back to the UK, estate agents would no doubt be fighting over dibs to get him settled in.
RoadFish.com's Senior staff writer is quoted as saying, "While I hear what Russell's saying—and don't get me wrong, I'm all about optimism and a positive outlook on life—I wonder at the same time if it's partly a charade for the media. If you truly love someone, I can't imagine being able to let go of those feelings in a couple of months. Although, if he has figured out a way to do it, he could make millions sharing his secret with other guys. If he's truly happy and has put the tough stuff behind him, then I'm really happy for him."
In the above-mentioned People article, Brand explained that he enjoys Kundalini yoga, a practice that relies a great deal on a combination of both spiritual and physical perception. Brand is quoted saying, "It's not about letting it go. You can't let go of something you don't hold, you know, it's meaningless. And much of our world is predicated on meaninglessness. And I don't do that anymore."
RoadFish.com wonders if Russell has any intention of moving back to London, as the Daily Star had reported back in January. RoadFish.com's Senior staff writer stated, "I think that if he's looking to advance his Hollywood career in a big way, he'll stay in LA. But if he needs family and familiarity, we might see him jet back to the UK for awhile. Honestly, if he's doing as well as he claims, I think he'll do just fine in LA especially with his upcoming American late-night comedy show."
Besides discussing feelings he is or is not harboring from his divorce in the People interview, Brand did comment on his upcoming late-night comedy show, slated to air on FX later in the year. He described it as a "standup comedy show," and explained, "we'll talk about current affairs and analyze and deconstruct the media of the day and approach news from a humanitarian and spiritual angle, whilst keeping it simultaneously and continuously humorous."
About RoadFish.com
RoadFish.com is an online men's lifestyle and finance magazine targeted toward men in their 30's and 40's that have already attained a moderate level of success in life, and are striving toward more. It goes over current events of interest to this group, such things as exciting adventures, making money, consumer interests, hot chicks, and internet marketing events, as well as ways to make more and save more money. It is a publication owned by Purpose Inc.
###