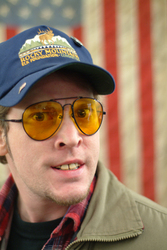 We wanted the climax to be in a James Bond-like futuristic lair and staged a war scene with practically no crew. We weren't sure how we were going to pull it off, but we knew we could
Memphis, TN (PRWEB) April 8, 2009
The indie feature, The Importance of Being Russell, hits DVD following a highly successful run on the film festival circuit.
The Importance of Being Russell began it's festival run by winning the Ron Tibbett Excellence in Filmmaking Award at the 2006 Indie Memphis Film Festival. In the following two years the movie played from Myrtle Beach, SC to Corvallis, OR. Culminating with a screening at The Independent Features Film Festival held at the Tribeca Film Center in New York City, one of only twenty films accepted. By the end of it's run, the film screened in 13 film festivals, winning 6 awards.
Lead actor, John Pickle garnered a Best Actor Award at the Southern Appalachian International Film Festival in 2007. "We were blown away by John's ability to play a wide variety of crazy characters, but kept coming back to Russell," Sean Plemmons, Director/Producer. Russell a dyed-in-the-wool redneck made his debut several years earlier on John's cable show Pickle TV. "What is it about rednecks that make them so uniquely American? One thing's for certain they're damn funny, " Mr. Plemmons cites as a reason to make the film.
"Lots of independent films have very little to make their productions with, but we feel confident in saying that on even that scale we were near the bottom," says producer Jeff Bryant. Sean Plemmons added, " All we had was a camera, some willing and talented actors, and an overwhelming desire to make a damn good movie." Even so the film pushes boundaries for micro-budget filmmaking with extensive special effects and sound work. "We wanted the climax to be in a James Bond-like futuristic lair and staged a war scene with practically no crew. We weren't sure how we were going to pull it off, but we knew we could," says Director of Photography Jeff Hassen.
Following rave reviews from Rogue Cinema and Quiet Earth, among others, The Importance of Being Russell now hits DVD with extra features including: 5.1 Surround, Deleted Scenes, and Filmmaker Commentary. Free Bonus Material is offered after purchase of the DVD: "The Mighty Hunter" - a new short starring John Pickle and an mp3 of the title song "Cityfied!"
Fuzzy Logic Entertainment Inc.
An independent film company based in Memphis, TN.
###