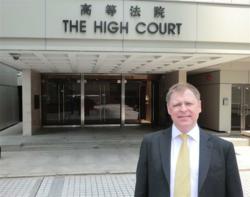 The Honourable Mr Justice To's decision against Edward Lehman for flouting the authority of the courts demonstrates that no one is above the law, regardless of their profession, or their country of origin or residence. I have always maintained that the be
Hong Kong, Beijing, and Singapore (PRWEB) May 12, 2011
The Plaintiffs, Russell Brown, Zhou Han Brown and 'Effiscient,' one of two shareholders in LehmanBrown, sought legal recourse in Hong Kong, were vindicated in their commitment to the due process of law against Edward Lehman and were successful in proving that between February and September 2010, Edward Lehman, a Patent and Trademark Agent in Hong Kong, China, and Macau, a member of the Illinois State and American Bar Associations and a lawyer practicing in China, issued over 9,000 emails containing defamatory statements about the Plaintiffs and LehmanBrown. The actions of Edward Lehman were held to be in deliberate breach of a Hong Kong High Court Injunction Order issued by The Honourable Mr Justice To on 23 July 2010. On 2 November 2010, Brown, Zhou Han and Effiscient issued an Originating Summons against Lehman for contempt of Court and committal to prison (HCA2204/2010 & HCA959/2010) .
In Open Court in Hong Kong on 19 April 2011 with The Honourable Mr Justice To presiding, the legal counsel for Edward Lehman described Lehman's conduct in breach of the Injunction Order (HCA959/2010) as "stupid", "foolish" and "culpably negligent." Edward Lehman admitted contempt and made an unreserved apology to the Court as well as to each of Russell Brown, Zhou Han Brown and Effiscient in an attempt to avoid a custodial sentence.
The Honourable Mr Justice To stated that Edward Lehman had committed "a very serious case of contempt" and the case was one that at first glance "warranted an immediate custodial sentence." While considering a custodial sentence, which Edward Lehman claimed would impinge on his ability to practice law, the Judge imposed a fine (HK$200,000) and awarded costs to be paid to the Plaintiffs on an indemnity basis (HKD400,000) - USD77,250 in total. Meanwhile, the Plaintiffs have also obtained an Interlocutory Judgement against Lehman in a separate defamation action in Hong Kong and are currently pursuing an assessment of damages and costs, which are expected to be substantial.
Commenting on the victory of due process of law over Edward Lehman, Russell Brown said, "The Honourable Mr Justice To's decision against Edward Lehman for flouting the authority of the courts demonstrates that no one is above the law, regardless of their profession, or their country of origin or residence. I have always maintained that the best way to defend our integrity in China is to trust the legal framework which exists to protect honest citizens and professional organizations."
Court Reference Numbers
HIGH COURT OF THE HONG KONG SPECIAL ADMINISTRATIVE REGION COURT OF FIRST INSTANCE MISCELLANEOUS PROCEEDINGS: HCA2204/2010
HIGH COURT OF THE HONG KONG SPECIAL ADMINISTRATIVE REGION COURT OF FIRST INSTANCE MISCELLANEOUS PROCEEDINGS: HCA959/2010
About LehmanBrown
LehmanBrown is a leading China-focused accounting, taxation and business advisory firm. The company operates through offices in Beijing, Shanghai, Guangzhou, Shenzhen, Tianjin and Hong Kong, and employs around two hundred professionals throughout China, all of whom are English-Mandarin bi-lingual.
LehmanBrown is registered with the PCAOB in the USA. LehmanBrown is also an Accredited Employer and Training Partner of many top global accountancy institutes including the Association of Chartered Certified Accountants (ACCA), the Chartered Institute of Management Accountants (CIMA), the Institute of Chartered Accountants in England and Wales (ICAEW), the Hong Kong Institute of Certified Public Accountants (HKICPA) and CPA Australia. LehmanBrown was the first ACCA China-wide Approved Platinum Employer.
Media contacts
Hong Kong & Beijing – (English language): Jim James
EASTWEST Public Relations
E: jim(at)eastwestpr(dot)com M: +8613910731967
Hong Kong & Beijing – (Chinese language): Kelvin Chen
EASTWEST Public Relations
E: kelvin(at)eastwestpr(dot)com M: +86 150 0120 3090
Singapore: Laurent Decosse
EASTWEST Public Relations
E: Laurent(at)eastwestpr(dot)com M: +65 97 302 174
###