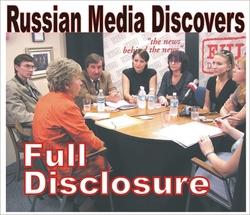 Russian Journalists Discover Power of Public Access cable channels and the First Amendment
Los Angeles, CA (PRWEB) October 31, 2008
"Russian Journalists Discover Power of Public Access cable channels and the First Amendment". The Full Disclosure Network® presents a fifteen-minute video featuring five visiting Russian journalists and a number of prominent U.S. political authorities. The Russians questioned Full Disclosure Producers Leslie Dutton and T. J. Johnston on how their independent public access cable television network operates and how it is received by government officials. View the video 24/7 at URL: http://www.fulldisclosure.net/Programs/first_amendment.php
The Russian journalists' tour in the United States was sponsored by the Library of Congress "Open World" program and facilitated by the International Visitors Council of Los Angeles.
For the past 25 years public access cable channels have enabled independent producers--like Full Disclosure--an opportunity to provide alternative and critical viewpoints in stark contrast to the mainstream media. At the end of December, it is expected the City of Los Angeles, by default, will allow cable television operators to shut down the public access channels and studios.
The Special Report also reveals candid reactions from each of the Russian journalists after they learned of Full Disclosure programs exposing government conflicts and failed public policies. Examples of encounters with authorities are featured in the video.
Visiting Russian Journalists featured in video are:

Ms. Mariya Ramazanovna Abubakarova, Chief Editor, Grozny City Newspaper
Ms. Kseniya Aleksandrovna Anufriyeva, Editor, Commentator, Mir Television Station
Ms. Tamara Bessmertnaya, Senior Editor Almazny Krai Television & Radio
Mr. Dimitriy Leonidovich Sokolov, Deputy Chief Editor, Editorial Board Ryazan News
Ms. Matalya Romanovna Volina, Correspondent, Vostochno-Sibirskaya Pravda News
Ms. Irina Vladimirovna Shcherbinina, Facilitator for the Library of Congress
Video clips featuring political authorities on Full Disclosure:
Richard Thornburgh, Former U.S. Attorney General
Ken Starr, Presidential Prosecutor
Bob Woodward, Journalist-Author
Steve Cooley, Los Angeles District Attorney
Roger Carrick, Special Legal Counsel to LAUSD Office of Inspector General
Some of the topics raised by the journalists:
Is there any power (official) that you (fear) to cover?
Do your programs report on events or do they foresee events?
How do you cover Presidential politics?
The full length program covering this meeting is to be featured on 45 cable systems a complete listing of channels and airtimes, by community can be found on our Channels page.
# # #