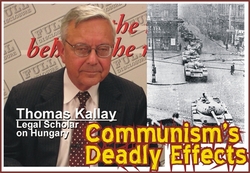 I still remember the Russian tanks rolling down the streets of Budapest. It was tough. And I remember my father, you know, disappearing for a couple of days at a time. It was a scary situation. And it was only years later I understood how important this was for my country. It was the first attempt by any communist nation where the people said
Los Angeles, CA (PRWEB) August 14, 2008
With a Russian invasion underway in Georgia and armored tanks on the move again, the Full Disclosure Network is releasing a two-part series entitled "Communism's Deadly Effects" featuring video footage of Russian tanks moving in to Hungary to quell the 1956 uprising of Hungarian Freedom Fighters. The series features the strikingly different experience of two prominent Hungarians; one who fled to the United States as a child with his family in 1956, and one who remained and became a part of the Soviet regime that occupied Hungary.
What impact did the many years of Soviet Communist occupation of Hungary have on the culture and society? The Full Disclosure Network® presents a two-part series is being featured on 47 cable systems and a nine minute preview available from YouTube here, and 24/7 at http://www.fulldisclosure.net/Programs/513.php
His Excellency András Simonyi, Hungarian Ambassador to the United States from 2004-2007 and Thomas Kállay, a prominent U. S. Attorney are featured in this series providing a glimpse into why they chose their opposite paths and examining their reasons for doing so.
Quotes from the series:
Thomas Kallay: "Communism destroyed the -- not just the social class or social classes, but it destroyed the creative energies of an entire people. It drove them underground. It brutalized them. It
destroyed them to the point where they could not produce the same, titanic figures that had just come onto the world stage before the advent of Communism."
Ambassador Simonyi: "I still remember the Russian tanks rolling down the streets of Budapest. It was tough. And I remember my father, you know, disappearing for a couple of days at a time. It was a scary situation. And it was only years later I understood how important this was for my country. It was the first attempt by any communist nation where the people said "enough is enough, and we want to get out of the Soviet camp; we want to be democratic; we want to be part of the free world."
Ambassador András Simonyi, tells Full Disclosure he longed for Democracy even though he remained in Hungary and that his role as a leader of KISZ a Soviet Communist youth organization and foreign minister for the Soviet regime was not a big deal.
Thomas Kállay describes the devastating effect of the Communist occupation by citing the death of creativity in Hungary following the 1956 uprising and Soviet reprisals.
###