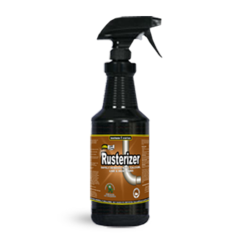 ...rust removal companies have been using it [Rusterizer] for years as its effectiveness has been cutting their labor expenses by $1,000 and even more.
Seattle, WA (PRWEB) February 21, 2013
Rust could make an item useless and its stain could make a surface unsightly. The treatment it would require to repair its damages could also cost someone a big amount. And so to cut the expenses, My Cleaning Products advised the use of a non-toxic rust remover it produces and manufactures by itself.
Almost everything is vulnerable to rust damages. Sure, the most-prone items to rust are those made from iron metal. After all, rust is formed basically by the reaction of iron and oxygen from water or moisture. However, it could also badly affect other materials.
Particularly, rust could make metal items weak even to the point of making them not fit for any use. It eats away the parts separating it from others. In several instances, that could cause accidents.
Meanwhile, rust stain could damage anything. It could debase items and surfaces of fabric, wood, concrete and even plastic materials as smudges of it could make them look unkempt. Specifically, clothes, sheets, curtains, floors and walls are the things and spots often stained by rust.
In worst cases, rust presence requires replacement of furniture, equipments and tools it damaged. And needless to say that brings an additional financial burden.
But even the less bad rust cases could also cost an individual a huge spending. That's because rust removal by contractors costs thousands. However, if it is personally done, a big amount could be saved. But then again, the quality of the treatment could be compromised.
Nonetheless, My Cleaning Products said that there is a way to ensure the effectiveness of a personal rust removal treatment without spending too big. And according to it, it's through the use of Rusterizer, a new non-toxic rust remover.
Rusterizer, according to MCP, is made with organic ingredients hence, it is safer compared with others. And as it said, rust removal companies have been using it for years as its effectiveness has been cutting their labor expenses by $1,000 and even more.
As My Cleaning Products explained, Rusterizer could clear rust safely, effectively and promptly. And with that is the prevention of worse damages and bigger expenses. Hence, anyone who uses it could also decrease their rust treatment cost, it said.
To prove that Rusterizer is indeed a rust remover that could effectively and safely clear rust without requiring a big amount, MCP decided to give out samples of it. It encouraged the public to get one of it so they could see for themselves how worthy it is.
Rusterizer Complimentary Sample is available at MyCleaningProducts.com, MCP shared.