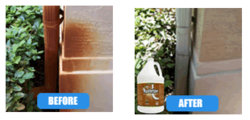 It said that apart from offering a prompt rust treatment, it [Rusterizer] also could deliver a truly effective and safe process.
Seattle, WA (PRWEB) February 25, 2013
The use of rust removers presents several advantages over other methods of rust treatment. But among the many rust sprays that could now be purchased, My Cleaning Products said Rusterizer is the best solution any rust sufferer could get. And to prove that true, it announced that it is now giving out complimentary samples of the said product.
Rust could damage items in houses, offices and basically, any place. However, it is a more common problem at residences than anywhere else. The basic reason is the daily use of water in houses.
Because rust is formed by the reaction of iron and oxygen in moisture, the everyday presence of water at home creates an environment that triggers its formation. And particularly, that puts metal-made pieces at risk of being damaged even to the point of being useless or un-repairable.
However, metal-made items aren't the only ones vulnerable to corrosion damages. Other items made of materials as wood, plastic, fabric and concrete are also susceptible to rust. But more specifically, they are susceptible to rust stain damages.
Like rust itself though, rust stain also could be cleared with the help of a rust remover. And more than other means of rust stain treatment, My Cleaning Products said it is actually the best method for anyone to implement.
Whether for rust or rust stain, My Cleaning Products explained that the use of a rust remover offers a prompt way to solve the rust problem. That, it said, prevents the further spread of the corrosion and more damages. And because of that, the rust treatment expenses, it added, is also reduced.
Nonetheless, of all the rust removal sprays available today, the company only recommended Rusterizer. It said that apart from offering a prompt rust treatment, it also could deliver a truly effective and safe process. That's because it is made with natural ingredients, it detailed.
Moreover, My Cleaning Products related that rust contractors have been using Rusterizer for years. It shared that they have reported a decrease on their rust treatment expenses by $1,000 since using it. And so, even them actually recommend the said solution.
But apart from just recommending Rusterizer, MCP also recently announced it is giving out samples of the product. It said that the sole purpose of it is so the public could try the solution and see for themselves it's not a waste.
My Cleaning Products shared that any rust sufferer could get a Complimentary Sample of Rusterizer at MyCleaningProducts.com.