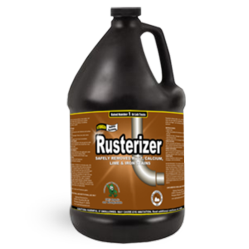 Prompt rust removal with the product[Rusterizer]...could save the item or surface from severe rust damages.
Seattle, WA (PRWEB) May 08, 2013
A speck of rust or a dot of its stain is harmless. However, if not immediately tended, it could result to problems. Hence, as soon as noticed, My Cleaning Products said that rust must be treated. Out of all the rust removers though, it only recommended Rusterizer and asserted that now is the best time to get it as its price was cut by 10%.
Rust or metal corrosion by definition is the product of the reaction between iron and oxygen in water or moisture. And because iron metal items and moisture are almost always present in houses, rust is a big headache to home owners.
Particularly, that's because rust makes home maintenance difficult to complete. It could make the whole process a daunting experience, My Cleaning Products said. To remove the stain or the rust itself, it could require someone to brush for hours. At times, even that laborious work just produces a little difference and does not entirely solve the problem, it added.
Moreover, rust could also bring in an additional home maintenance expense, the company stated. If not treated right away, corrosion could spread and the high-cost service of a professional rust contractor might be needed. Possible replacement or repair of the rust-damaged piece of surface could also cause unnecessary expense, it added.
However, MCP said that with quick response and Rusterizer, one could now prevent those problems. Prompt rust removal with the product, it said, could save the item or surface from severe rust damages. And with that, it stated that metal tools, equipments and even some non-metal items commonly damaged by rust could last longer.
My Cleaning Products shared that Rusterizer is also an organic-based rust remover. It detailed it could help someone do an effective rust removal without risking his health or leaving a residue that could compromise that of others.
That's not all. It added that the product is also a no-scrubbing rust remover. So, anyone who uses it could save money and energy, it stated.
To prove if it could deliver all those benefits, the company encouraged the public to try a Rusterizer Complimentary Sample available at MyCLeaningProducts.
It also said that whoever affirmed its effectiveness should get the product right away for a 10% discount. The price cut, it shared, is its Mothers' Day Special. To get it, shoppers just need to enter the code "mom" at checkout, it instructed.