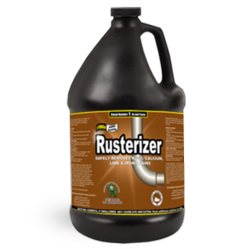 But apart from being safe, rust contractors have proven that it[Rusterizer] is also effective without being expensive.
Seattle, WA (PRWEB) February 18, 2013
Rust could damage a lot of items and surfaces. The process to clear it could also be expensive. However, My Cleaning Products asserted that one rust remover could reduce a person's rust removal expenses by $1, 000 or even more.
Items made of metals are the ones mostly damaged by rust. The reason is that rust or corrosion basically occurs when oxygen in water or moisture reacts with iron, explained My Cleaning Products.
However, those damages are not exclusive to metal-made pieces. The site said that the things made out of metals may be the most-susceptible to rust, but they aren't the only ones that could be damaged by it. Other materials as fabric, wood, crystal and concrete could also be ruined by corrosion.
Particularly, it is the rust stain that is a threat to other materials apart from metal, said My Cleaning Products. Though it doesn't damage an item in a way that stops it from fulfilling its function, still it degrades its value, it declared.
Take, for example, a rust-stained wall, said MCP. The stain does not keep it from being a wall. However, it said that it degrades its aesthetic value. So whether it's just for a stain or the corrosion itself, the site stated that a rust removal must be implemented. And to save the item or surface from complete ruin, it added that it must be done as soon as the rust or its stain is detected.
There are actually two commonly used methods of rust removal, said My Cleaning Products. One is the hiring of a rust contractor and the other is the use of a rust remover. These two have their own pros and cons, but both offer easy and prompt rust treatment.
Nonetheless, between the two rust removal methods, MCP said the use of a rust spray is the better option for the public. It reasoned that it is much more affordable. Apart from that, it added that it also offers rust victims more control over the kind of rust solution to use. However, for a safer process, it advised the use of only an organic-based rust remover.
More specifically though, My Cleaning Products recommended only the use of Rusterizer. It is basically a rust removal product made with natural ingredients so it is safer than any other rust remover. But apart from being safe, rust contractors have proven that it is also effective without being expensive. In fact, it even cut down their expenses by $1,000, they related.
And with those benefits, MCP asserted that Rusterizer is truly the best rust remover. And to prove that themselves, it encouraged the public to grab a complimentary sample of it.
My Cleaning Products shared that Rusterizer Complimentary Sample is available at MyCleaningProducts.com.