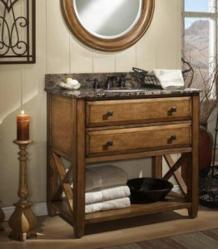 Casual Elements vanity from Sagehill Designs has a supremely simple, rustic construction, with cross-style supports on the legs and a slightly aged, naturally graying finish on the wood.
(PRWEB) June 30, 2012
Bathroom is the ultimate place to unwind – somewhere casual, comfortable, and relaxing. That's why a bathroom design that's a little more rustic rather than ultra sleek and modern is preferred by many. While there's definitely a place for high design in a bathroom, quite often it is preferable to have a little more country than chic, starting with rustic bathroom vanities. The rough finished wood and simple handcrafted design give any bathroom a warm, inviting look and feel that's perfect for a more casual design.
HomeThangs comes out with the following key elements that define casual country (rustic) style design in a bathroom:
1. Rough uneven textures and natural variations in material.
Example: the Casual Elements vanity from Sagehill Designs has a supremely simple, rustic construction, with cross-style supports on the legs and a slightly aged, naturally graying finish on the wood. Some simple drawer pulls added - and here's a rustic bathroom vanity that feels more like a piece of furniture one would find in a cozy cabin rather than something from a magazine spread.
2. Rugged craftsmanship is a key. Whether they're actually handmade or not, rustic bathroom vanities that look hand crafted are the best for playing up a country or cabin style.
Example: Sierra vanity from Pegasus is made with a log-cabin style light pine finish, but the real rugged charm comes through in the simple, peg-style construction, which adds leaps and bounds to the hand-made, little home on the prairie style authenticity.
3. The simpler the design, and the more rugged the wood, the more rustic the rustic bathroom vanities will look.
Example: Lexington Sink Stand from Sierra Copper is about as simple as they come. It's little more than a few heavily aged, weathered boards made into a rough stand for a trough-style porcelain or copper sink. It's a very different kind of minimalism than could be found in modern design – not one that's stark and stunning, but a rugged minimalism that hearkens back to a simpler time.
4. Handcrafted, rustic bathroom vanities don't necessarily have to be simple, though.
Example: Heartland vanity is covered in beautiful woodwork, from the gorgeous shaped legs to the scalloped edges. But the combination of light wood, artisan style craftsmanship, and the little details – like the matching wood (rather than metal) door and drawer pulls – give this vanity a homey look and feel that's a little more refined, but still right at home in a country style bathroom.
5. Natural materials - wood is always the star of rustic bathroom vanities.
Example: Vigneron vanity from Herbeau is a perfect example. While the construction is utterly, classically simplistic, the entire piece is made of solid ash wood, and each board is sanded smooth to showcase the gorgeous wood grain in each and every piece. This same vanity even comes unfinished, to allow the wood to weather and gray naturally over time for a truly one of a kind rustic vanity.
6. Finish and color that looks natural. Showcasing the natural grain of the wood and featuring warm, light, natural wood finishes is also an easy way to immediately warm up the bathroom. While modern vanities often come in dark, stark, even industrial colors and materials that can make the bathroom feel cold or sterile, rustic ones made with the right wood do exactly the opposite, making the room feel comfortable and inviting.
Example: Rich Cinnamon vanity – its warm, honeyed finish is perfect for catching the light and warming up the space.
Mixing different styles works:
Rustic bathroom furniture would work in a wide variety of homes.
Examples:
1. The Lexington vanity might be better suited to a cabin style home and the Heartland vanity to an older farmhouse style building.
2. The Anna vanity by Sierra Copper is quite similar to many of the other vanities on this list, but the addition of a copper sink, counter, and copper inlays give it a slightly more southwestern flair – perfect for an adobe home or Santa Fe style ranch.
HomeThangs.com is not only a home improvement superstore, it also provides expert design tips and a comprehensive shopping guide, taking the ideas from professional interior designers.