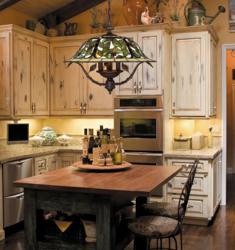 Rustic wrought iron or glass Tiffany chandeliers – will add warm ambient light to the room in the form of a beautiful but simple accent piece.
(PRWEB) August 08, 2012
HomeThangs.com – the Home Improvement Super Store has made their goal to deliver the right product to the consumer, with that in mind, shopping and home design tips, as well as special product selections are being introduced.
While formal crystal chandeliers are showy through and through, rustic wrought iron chandeliers – or even glass Tiffany chandeliers – will to add warm ambient light to the room in the form of a beautiful but simple accent piece.
HomeThangs has introduced a guide to rustic chandeliers as well as a product selection for those who love that cabin style look.
1. For a rustic space something a little less delicate than the crystals and sleek glossy finish will be a good fit, something a little more masculine. Wrought iron chandeliers are great for this, because they replace the slim silver, brass, or gilt swoops and dangles with simpler geometric shapes and thicker, more assertive lines. Something like the Waverly Chandelier from Landmark Lighting doubles up, replacing tiny tapers with thick pillar candles that glow from within for a warmer light.
2. While a shiny brass or gilt finish is all palaces and mansions, wrought iron chandeliers are more like mead halls and old west saloons – a simpler material for a simpler setting. In fact, something like the Cambridge Chandelier from Elk Lighting have the added bonus of looking like they came straight from an old timey blacksmith, which will lend a rustic timelessness and sense of craftsmanship to almost any space.
3. Simple materials are an important part of getting an authentic rustic feel. While there aren't a whole lot of wooden chandeliers (though they do exist), there are quite a few wrought iron chandeliers that are accented with other natural, rugged materials. For example, Natural Rope Chandelier from Landmark Lighting, replaces the conventional hanging chain (at least in part) with some heavy duty rope. The matching rough textile shades complete a perfect western style that still manages to be sophisticated. It's the right size to provide enough, overall lighting in a dining or living room space, and manages to be simultaneously earthy and stylish – an excellent finishing touch for a rustic room.
4. To go a step further, some rustic chandeliers throw out the conventional idea of a chandelier almost entirely. It's still a roundish light fixture hanging from the ceiling to make light and look pretty, but the resemblance more or less ends there. The Chapman Chandelier by Landmark Lighting forgoes the conventional fixed light fixtures in favor of five old fashioned hurricane lanterns. They're powered by electricity instead of oil, but still look like they belong to the glory days of the railroad or something straight out of a 1800s mining town.
5. For something a little simpler, chandeliers made in the shape of scaled-up old fashioned lamps will add a little rustic touch to the decor. While, again, they're electric not oil powered, the simple symmetry and solid, masculine lines of a lamp-style wrought iron chandelier are a great way to add unostentatious lighting and decoration in a single piece. Especially in a room with a lot of exposed wood, like cabin style plank walls or a lot of wood furniture, something like the Quincy Pendant by Elk Lighting will blend in with and accentuate a rustic decor without feeling overdone.
6. Tiffany chandeliers are the go-to when it comes to colored glass, and the Latham Chandelier by Landmark is a nice example. Made of glass in gorgeous earthy shades of green, white, and brown and rich, dark bronze hardware with a subtle vine and leaf detailing, this Tiffany chandelier is anything but frou-frou. The delicate detailing and masculine coloration combine to make an excellent, eye-catching piece that will deliver a pitch perfect sense of class and a little bit of Mother Nature that can really unify a rustic decor.
So if you're designing a rustic living space, give chandeliers a chance. From rough hewn old west style wrought iron chandeliers to more delicate Tiffany glass chandeliers in foresty colors, it's not hard to find a casual, rustic chandelier that will make a perfect finishing touch, adding a little touch of polish to the design without making a rugged space too posh.
HomeThangs.com is not only a home improvement superstore, it also provides expert design tips and a comprehensive shopping guide, taking the ideas from professional interior designers, and offering tips to the consumers on how to pick the products to best suit their needs.