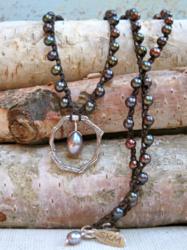 ...beautiful handmade jewelry for people looking to connect on a deeper level with what they buy and wear...
Franklin Lakes, NJ (PRWEB) August 29, 2012
Giving back to her community has always been a passion of SKM Artwork's owner/designer Susan Miller. So Susan was honored and thrilled when Oasis, a non-profit organization in Paterson, NJ dedicated to assisting impoverished families requested a custom piece to support their organization's fundraising endeavors.
"For years I have wanted to get involved with Oasis and through SKM Artworks I've found a way that I can help support what they do", remarks Susan. "The Oasis necklace embodies the spirit of the organization and I hope it enables them to do more of what they do best."
Oasis' mission is dedicated to breaking the cycle of poverty by feeding and clothing needy women and children and offering them educational resources and skills to obtain meaningful employment. These services are offered in a safe, compassionate, nurturing environment with a commitment to fostering healthy family relationships in a way which preserves the dignity of people and their cultures.
Merging the craft of crochet with the art of jewelry making, SKM Artworks' trademark weaving of precious metals and gemstones within natural leathers and Irish waxed linen tap into a desire for meaningful jewelry with an organic feel... rustic and spiritual with a luxury twist. SKM Artworks' mission is to create beautiful handmade jewelry for people looking to connect on a deeper level with what they buy and wear.
The Oasis necklace cleverly mirrors the logo of Oasis. Chocolate cultured pearls are hand-woven into Irish linen cord and feature a solitary mystic gray freshwater pearl "egg" surrounded by a sterling silver "nest". The Oasis necklace, a symbol of security and hope, is available for $165 at Devon Fine Jewelers in Wyckoff, NJ and Cose Belle in Franklin Lakes, NJ or at SKM Artworks' online shop. A portion of the proceeds from the Oasis necklace will help fund the many programs Oasis offers.
SKM Artworks is currently available at http://www.shopSKM.com and various exceptional east coast boutiques and jewelry stores. Retail prices for SKM's necklaces range from $89-$299; earrings, $45-$125; bracelets $59-$199.