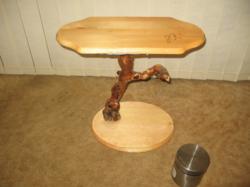 A perfect gift for the person who has everything.
Erie, Pa (PRWEB) May 01, 2013
Since its inception, DIY Home Fix Tips has been dedicated to supplying information that DIY-ers can use that will help improve their lives and /or help them save money.
"The Rustic Furniture Place" has been making a very unique line of rustic tables and lamps privately for many years and has recently partnered with DIY Home Fix Tips to be able to offer these fine pieces to the public.
These works of art are hand crafted by master artisan John Roemer in his private workshop in Erie, Pennsylvania. Each piece is original but John will do custom orders on request.
In some of these unique pieces, John uses western red cedar from the Sierra Nevada mountains making for some really beautiful works of art.
Designed to be truly functional, they make a perfect gift for the person who has everything.
Customers can now purchase directly from the website at DIY Home Fix Tips.
About DIY Home Fix Tips:
The DIY Home Fix Tips blog treats their readers to quality, no bull info, tips, advice, videos and helpful product ideas related to DIY home repair. Brian Whiteman, the blog's author, has spent over 35 years designing, building, remodeling, and repairing residential homes. Mr. Whiteman is still active in repairing homes in the Erie, Pa. area. For more information about DIY Home Fix Tips, please visit http://www.diyhomefixtips.info.