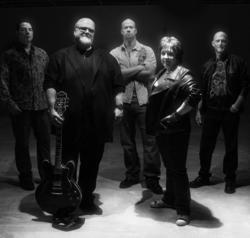 "One of the most entertaining bands in the country today." ­- Steve Simon (St. John Blues Festival promoter and Bluzapalooza founder)
Flint, MI (PRWEB) April 17, 2013
In 2004, Michigan guitarists Rusty and Laurie Wright put together the first incarnation of the group that would become The Rusty Wright Band. Several "Jammie Award" nominations, international tours, global airplay, and a syndicated PBS concert performance later, the band releases their fourth album in 2013 entitled "This, That & The Other Thing." It was only the band's second show together when they opened for Lynyrd Skynyrd, a performance which garnered them a standing ovation and prompted Skynyrd guitarist Rickey Medlocke to exclaim "Dude – where the hell did YOU come from?" Soon after, Wright enlisted the help of longtime friend and former Godsmack/Fuel drummer, Tommy Stewart, in cutting the drum tracks for the band's debut CD Ain't No Good Life, which was named one of the year's top 5 albums by Midnight Special Blues Radio. The Rusty Wright Band has an impressive history with prior albums reaching the Billboard Top 10 chart, Sirius/XM's Bluesville station 'Picks to Click 'chart, and the Roots Music Report Blues Charts, and iTunes Blues Charts earning the band international recognition. The Rusty Wright Band has performed on four continents and on national TV for an hour­long syndicated PBS program called Backstage Pass. The band's lineup currently includes former Grand Funk Railroad bassist, Dennis Bellinger.
This, That & the Other Thing is filled varied textures and vibes. Rusty's favorite albums have always been those by artists who thumbed their noses at the idea of cookie cutter pop hits. When he bought a new album he wanted to be surprised by the music as the album played. Those albums that had a variety of vibes and song styles were inspiring to him and This, That & the Other Thing hits the mark. "Whole Lotta Rosie" is a hip and swingy re­working of the AC/DC classic. "Alarm Clock Blues" delivers a 'Zappa meets Thorogood' vibe. Closing the album is, "Pen or Sword," Wright's tip of the hat to current social and political issues in the U.S. featuring gorgeous guitar work and thoughtful lyrics.
Legendary recording engineer Al Hurschman (Ted Nugent, Grand Funk Railroad, Heavy Metal, Big Walter Horton, Mark Farner, The Romantics) figured prominently in the recording This, That & the Other Thing. The album was recorded at Alliance Recording Co, a world class studio hidden down a two­track road in a patch of woods near Ann Arbor, Michigan, which started out as the Grand Funk Railroad studio fondly dubbed "The Swamp."
"Make no mistake; this act is much more than a 'guitar' band. They are the embodiment of what The Blues is all about. Some the best blues I've ever heard." ­- Craig Martin (Pix Theatre Executive Director)
"An energized blues/rock storm" ­- The Flint Journal
You can learn more about The Rusty Wright Band at http://www.rustywrightband.com
If you have any questions, comments or would like to set up an interview please contact Melissa Zeigler at melissa(at)powderfingerpromo(dot)com
Powderfinger Promotions Independent Radio Promotion and Publicity - Since being founded in October 1994, Powderfinger has come to be regarded as a top indie radio promoter and publicity firm with ties across North America.