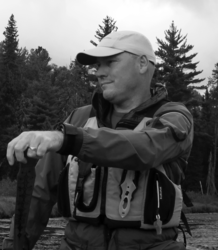 I kept finding little things that were broken and they added up quick. The kayak shop had good bones, but some of the muscles were atrophied.
Madison, WI (PRWEB) December 29, 2012
It has been an epic journey for employee-turned-owner Darren Bush and his kayak store Rutabaga Paddlesports. Madison Wisconsin's Rutabaga is a niche business, all about kayaks and canoes. 2013 marks a decade of ownership. Bush attributes success to passion and community.
"It's our shop's culture," Bush explains. "It's what we love, and we do it better than anyone else. "It is not conceit, really; it's a reflection of our passion. That is what makes a business thrive."
Bush admits that the company was in trouble at time of acquisition. "The stress of turning around a business that was going in the wrong direction. I kept finding little things that were broken and they added up quick. The kayak shop had good bones, but some of the muscles were atrophied. Working out the kinks took a lot longer than we thought. It was like turning a battleship."
Rutabaga is currently developing an entity that complements the canoe and kayak shop called Cartop.com. Cartop sells car top roof racks, offering customers consultation and how-to for safely lugging canoes, kayaks, and camping gear.
Rutabaga's staff believes value for their kayak shop customers take many forms. For example, customers who found their passion for kayaking in the early '90s are now bringing their kids to learn how to canoe via Rutabaga Outdoor Programs.
Ty Heilman, Rutabaga's Marketing Manager, explains how the kayak shop perceives their role in the community.
"We take the outdoor retailer niche a bit further than the competition and aim to be a central part of the industry," Heilman says. "Our Madison kayak shop acts as the hub. Of course this means being nimble and developing outdoor trends like Stand Up Paddleboarding and Kayak Fishing."
Bush cites a local cheese monger who has become the go-to for specialty cheeses and the number of local chocolatiers who have emerged in recent years.
"They're all passionate and it shows," he says.
Specialty retail is not without challenge.
"Sure, we face challenges," admits Bush. "We continue to see price as a major force in a customer's decision of where and what to buy. Smart phones and the ability to instantly match pricing are a challenge. That said, many consumers continue to see the value of actually holding a product in their hand before purchase and learn to count on Rutabaga's team of buyers to take in only quality and valuable merchandise."
Rutabaga offers test paddling of all their canoes and kayaks while customers shop them.
"You probably wouldn't purchase a car without a test drive," said Bush. "It's critical to making the best choice for your needs."
Bush applauds retailers offering demo days, but realizes the strength in their kayak shop and outdoor business is to let customers try before they buy anyday without reservation. The Yahara River flowage runs right up to the back lawn of their kayak store.
About Rutabaga Paddlesports.
Rutabaga Paddlesports has received Paddlesports Retailer of the Year from Canoe and Kayak Magazine a record eight times and was voted one of the best 50 Places to Work by Outside Magazine in 2011. Rutabaga Paddlesports is a nationally-recognized kayak, canoe and stand up paddle (SUP) retailer. Family-owned and operated since 1976. Rutabaga is currently developing cartop.com. The company's paddling school, Rutabaga Outdoor Programs, teaches paddling skills to over one thousand paddlers a year.