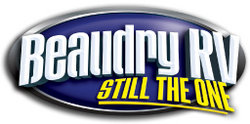 When RVs sell, both Beaudry RV and the seller win
Phoenix, AZ (Vocus) May 4, 2010
Beaudry RV Company's Consignment Program ranks in the top of the RV industry for on-site and Internet traffic, making them the first stop for people with RVs for sale. Beaudry RV Company's multi-tiered marketing effort makes selling an RV convenient and hassle-free.
Beaudry RV's forty years of experience gives RVs for sale a name and reputation consumers can trust. Beaudry RV Company also has an advertising budget individual sellers can't match. "When RVs sell, both Beaudry RV and the seller win," says Scott Beaudry of Beaudry RV Company. "Our goal perfectly aligns with theirs – take this RV and sell it as quickly as possible for the best price possible."
Beaudry RV's Consignment Program includes the following:
Marketing:
Beaudry RV has an extensive list of RVs for sale, making Beaudry RV a natural resource for buyers. Their advertising budget that reaches out globally through TV, radio, print, Internet and on site event advertising. Thousands of people view the Beaudry RV site daily.
Fraud:
Fraud is at an all time high right now and criminals are now targeting individual RV sellers. Fake identities and fraudulent cashier's checks are being used to scam RV sellers. RVs for sale through Beaudry RV Company are protected by the company against fraud.
Phone Call Hassles:
Once an ad hits these advertising arenas, calls come in at all hours of the day and night with people trying to buy, bid or even lowball offers. Beaudry RV has a dedicated consignment staff to properly process calls.
Dangerous Test Drives:
Without proper RV insurance, accidents during test drives cost consumers money. Using a trusted consignment dealer alleviates potential insurance issues.
RV Financing:
Beaudry RV has an in-house RV finance staff, to help secure financing for new buyers, which can increase potential buyers by over 60%.
Beaudry RV Company's consignment program is set up to make selling and RV and buying an RV a convenient, safe experience for all involved.
For more information on Class A, Class B Motorhomes and Class C RVs and Beaudry RV Company or current trends in the industry contact:
Scott Beaudry
Company: Beaudry RV Company
http://www.BeaudryRv.com
Phone: 520-239-5054
# # #