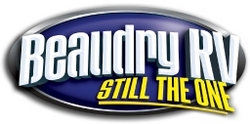 Offering our customers discounts for Nascar only makes sense
Tucson, AZ (Vocus) April 2, 2010
Beaudry RV Company is the exclusive RV dealer for NASCAR at Phoenix International Raceway for the seventh consecutive year. From April 5th to April 11th, Beaudry RV Company will be passing on tremendous savings as a result of their continued partnership with NASCAR. Contact Beaudry for details.
Beaudry RV Company will be onsite with approximately 75 units to sell. There will be five sale locations throughout the PIR site including a full RV parts and accessories store. There will also be five mobile service techs onsite. Beaudry RV Company will be hosting live music at Gate 1 featuring Nathan Dean DATE??– http://www.nathandean.net. There will also be Chuck O tournaments daily with the first prize being two reserved camping spaces and four tickets for the November race.
'NASCAR is one of the most viewed professional sports in terms of television ratings in the United States. In fact, professional football is the only sport in the United States to hold more viewers than NASCAR. Internationally, NASCAR races are broadcast in over 150 countries. NASCAR holds 17 of the top 20 attended single-day sporting events in the world, and claims 75 million fans who purchase over $3 billion in annual licensed product sales. Many marketers consider NASCAR fans the most brand-loyal in all of sports and as a result, Fortune 500 companies sponsor NASCAR more than any other Motor Sport,' reports Wikipedia.com.
Beaudry RV Company has been in business since 1970 when it opened as a small gas station. Four generations later and Beaudry RV Company is the largest RV dealer in the southwest. Beaudry RV Company is recognized for their ability to predict industry trends, deliver quality products and provide exceptional customer service. Their decision to offer discount Nascar packages comes as no surprise to their consumers who often celebrate annual BBQ's, concerts and more at Beaudry RV Company.
"Offering our customers discounts for Nascar only makes sense," says Thom Sylvester of Beaudry RV Company. "We want our clients to see us as more than a singleminded RV dealer. We want them to see us as someone who thinks of them after a saleand affiliates itself with their interests."
For more information on Beaudry RV Company or current trends in the industry contact:
Thomas P. Sylvester
Company: Beaudry RV Company
http://www.BeaudryRv.com
Phone: 520-239-5054
# # #